Male and female models aged from eight to 70 showed that there's something for everyone in charity shops, as they strutted their stuff on Beulah Street in Harrogate on Saturday.
Volunteers for the Choose2Reuse campaign modelled outfits from designer evening gowns to vintage crimplene wonders to show the watching public the real quality bargains to be found.
The Choose2Reuse campaign aims to prevent reusable goods from becoming waste. The campaign promotes alternative ways of reusing items to stop them ending up in landfill where they damage our planet by producing greenhouse gases as they decompose.
The live shop window event at Barnardos, Cancer Research and Mind, was organised by the York and North Yorkshire Waste Partnership and is part of the Choose2Reuse campaign which aims to prevent reusable goods such as clothing and accessories from becoming waste, by promoting alternative ways of reusing them.
Karen Thornton, one of the Choose2Reuse models said: "I would recommend anyone wanting something a bit different to go down to their local charity shop. I purchased the Amanda Wakeley dress I modelled for the event for £15 from Barnardos. If I was to buy something like this new it would have cost more than £800. I am so pleased with my purchase, because as well as saving me money, it hasn't cost the earth."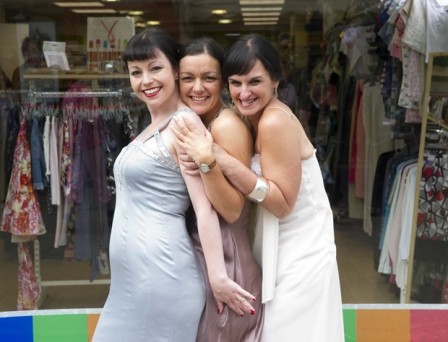 Choose2Reuse volunteers Karen Thornton, Sue Morriss and Julie Holmes modelling evening wear from Barnardos
County Councillor Chris Metcalfe, the chairman of the waste partnership, said:
"The Choose2Reuse live shop window event really did show that there's something for everyone in charity shops and that they are a great place for sustainable fashion that won't be costly to you or the planet."
Choose2Reuse fashion fairs are being planned for November and December. There will be stalls, fashion shows, workshops and craft activities, all focussing on reuse and how to extend the life of everyday items from clothing and jewellery to furniture and art.
The Choose2Reuse fairs will take place on:
Saturday 5th November 10am to 4pm, Hambleton Forum, Northallerton
Saturday 3rd December 10am to 4pm, York Racecourse, York
Saturday 17th December 10am to 4pm, The Pavillions, Harrogate
For more information on the Choose2Reuse fairs and the campaign, visit www.letstalklessrubbish.com or contact the waste management team on 01609 532512.