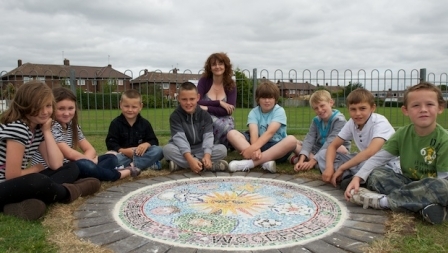 When a new £61,000 play area officially reopens in Harrogate this week it will also have a new name.
During consultation about the new equipment to be provided in the play area which Harrogate Borough Council's parks and playground team called Butler Road, they found that some local residents referred to it as Poplar Park or Bilton Park and others called it Woodfield play area.
So as part of the consultation, they asked local residents what they would like it to be known as in future and the overwhelming choice was 'Woodfield Park'. This is fitting as this small but popular play area is located in the town's Woodfield Ward.
The new play area is mainly aimed at children aged 8 to 13 and offers a much more natural play area. There is a large wooden climbing frame with ropes and nets, a large nest swing, new swings (some for toddlers) and a roundabout. New trees have been planted inside and outside the play area and new benches have been installed with rocks and logs to provide informal seating and more play opportunities.
Added to this, young people from Bilton Youth Club have worked with Gaby Naptali (shown above with local children), a mosaic artist, to create their own mosaic which will feature in the park. They spent a number of weeks cutting and sticking individual coloured tiles to create the finished mosaic, which includes things that they associate with the local area.
Councillor Caroline Bayliss, Cabinet Member for Cultural Services, says she is pleased that the new equipment is in and the park is open for use. "These young children have had to wait for their new play area because the government pulled the national playbuilder funding in the middle of last year. Happily, the scheme came back on track, when the government honoured the agreement and reinstated the funding of £41,000. The council contributed £15,000 and the Harrogate District Community Safety Partnership awarded us £5,000. This is a fabulous new and modern play area that I hope children and families will enjoy it for a long time to come. "
Greta Knight (Councillor for Woodfield Ward), Councillor Caroline Bayliss (Cabinet Member for Cultural Services), Pat Jones (Deputy Mayor of the Borough of Harrogate) and Jenni Harrop (Technical Services with the Harrogate Borough Council)