Ripon Spa Gardens have once again been recognised as one of the best local parks in the country having been awarded a Green Flag in the 2011 Award Scheme.
Flying a Green Flag is a sign to visitors that the Gardens are well maintained and well managed, with excellent facilities all provided by Harrogate Borough Council along with support received from the volunteer Friends' Group.
And what's more this is the 11th consecutive Green Flag awarded to this high quality green space in the heart of the city of Ripon.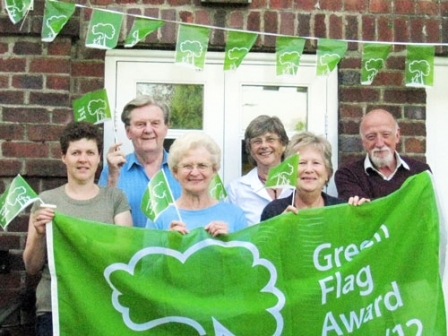 Friends of Ripon Spa Gardens hoist Ripon Spa Gardens 11th Green Flag l to r Caroline Bentham (Secretary), Peter Horton, Mig Holness, Claire Cox, Lyn Dennis and Glyn Stokes (Vice Chair)
In 2011, 1,288 parks and green spaces will fly either the Green Flag or Community Award, a sign that the value of green space is widely acknowledged as vital to our communities. Yet in 2001, Ripon Spa Gardens was the only park to receive a Green Flag in the whole of Yorkshire and Humberside and in 2002, Ripon Spa Gardens were the only winners in North Yorkshire.
Councillor Caroline Bayliss, Cabinet Member for Cultural Services for Harrogate Borough Council says this amply demonstrates the high quality of these wonderful Gardens. "This eleventh Green Flag award is a testimony to the skills of the council's parks team and continued investment by the borough council coupled with the benefit of support from the Friends' Group.
"Spa Gardens is a beautiful park right in the heart of Ripon with something for everyone."
Phil Barton, Green Flag Plus Partnership chairman said: "I would like to congratulate this year's winners, who have worked hard throughout the year to keep their parks and green spaces at a high standard and ensure they are pleasant and enjoyable spaces for the whole community.
"The Green Flag Award Scheme, and its growth, is essential in driving up the standards of our parks and green spaces. Access to quality green space is something we all desire and the scheme plays a key role in providing it.
"In these challenging financial times it is heartening that the number of Green Flag
Awards continues to grow. As the value of green space and the role it plays in our communities strengthens, we must ensure these high standards remain."
All award-winning sites now have the chance to receive a further award from the Green Flag Plus Partnership, the People's Choice Award. This award is voted for by the public, so if you want to see your local park receive a national accolade as the people's choice, then visit the Green Flag Award website now to register your vote
www.greenflagaward.org.uk