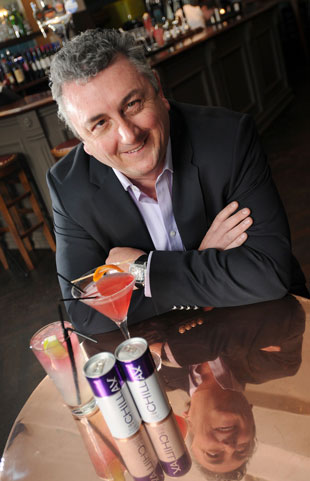 A local entrepreneur has captured the essence of Harrogate Spa town in a unique, new, natural soft drink and mixer which is launching across the country in a selection of shops and bars, promoting the ethos of 'relaxed drinking' inline with the chilled out atmosphere of Harrogate's many bars and clubs.
Having spent 5 years in Dubai as a property investor, Ray Averre moved to Copgrove, Harrogate with his wife and two children to retire in a relaxing, yet vibrant town. Hit by the concept of Harrogate Spa water, Ray decided there was a gap in the market for a natural, low calorie drink to take the edge off today's hectic lifestyle.
Two years in the making and developed by the UK's top blend house, Chillax is a natural mixer, made with a unique combination of ingredients including Rosehip, Hibiscus and Passionflower. Drunk alone, or mixed with spirits, at just 17 calories it is the most slim-line mixer on the market, and provides 30% RDA of Vitamin C, E, B6 and B12.
Ray said: "Harrogate has lots of lovely places to eat and drink and tranquil areas like The Stray which inspired my thought process behind Chillax. I've created a drink that people can sit back with and leisurely enjoy at their own pace and Harrogate is a town that can appreciate a need for that."
Chillax is stocked at Oracle in Leeds and Ray is currently in talks with bars across Yorkshire, many of whom are interested in stocking locally sourced products.
Ray said: "We're excited to be launching Chillax in Yorkshire first, before going nationwide as there is such a great nightlife across the cities and towns here. There is also a really great chilled out vibe in the music scene and we want to bottle this and then help spread it nationwide. Our ultimate aim is to get people to enjoy their time off more, helping them to unwind and relax, rather than ramp up their energy levels, when they have a drink".
In a bid to slow down the tempo and learn a few tricks from our International neighbours Chillax has also launched a cocktail competition, where facebook fans submit Chillax cocktail ideas, for the chance for theirs to be created and added to the summer menu.
To find out more, or get involved visit www.facebook.com/chillaxdrinks