A third and final vehicle is about to go on trial in Leeds to tackle small fires in the city.
Since April, West Yorkshire Fire and Rescue Service has been trialling a Fire Response Unit (FRU) in the Leeds district which is dispatched to tackle only small nuisance fires such as rubbish fires, grass fires, car fires and also automatic fire alarms at some commercial properties.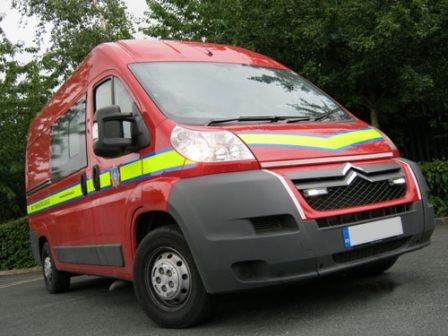 The FRU has attended more than 750 incidents since the trial began, which makes it the busiest fire appliance in West Yorkshire.
A standard fire engine was the first vehicle to be trialled, followed by a modified BMW X5. The final vehicle to be tested, from 1 August to end of September, will be a Citroen Relay van. The van will be equipped with an ABC Mackintosh FAS Ultra fire fogging system similar to that which is currently used by the brigade's Wildfire Units. The system uses a pump-driven petrol engine which discharges water at 200 bar and the water tank has a capacity of 350 litres.
Leeds District commander Mick Smith said: "We're able to report good success with the trial so far with reduced disruption to mainstream appliances, which in turn helps to increase their availability for more serious, possibly life-threatening, incidents, as well as more efficient completion of fire prevention activity."
The vehicle operates from Leeds Fire Station between 9am and 11pm and is staffed by three firefighters.
Feedback from all the parties involved in the trial will be collated after the trial ends, and data will be derived from incident management statistics.