White Rose Festivals have just announced the winners of Yorkshire's Got Young Talent 2011. Ravi Patel from Burnbridge and Emma Hart from Hampsthwaite sang their way through the final auditions at Harewood House on 4th July to be crowned winners of Yorkshire's Got Young Talent 2011.
The two 17 year olds will join the cast of professional opera singers and Northern Camerata Orchestra in performing A Night at the Opera on Thursday 17th November, the opening night of the White Rose Winter Music Festival at Harewood House.
Ravi describes how it felt when he heard the good news, 'It was an amazing feeling to find out that I've been chosen to sing at 'A Night at the Opera'. It will be a truly unforgettable experience. I would like to thank my singing teachers, David Darling and Geoffrey Thompson, for inspiring me.'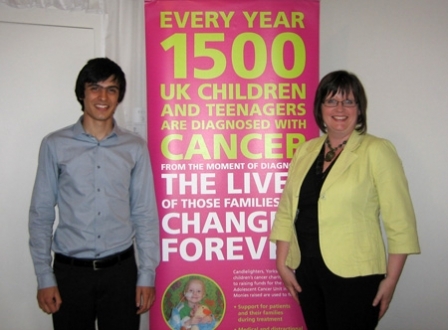 Ravi Patel with Anna Cunningham of Ultimate Voice 
Emma also shares her excitement, "I was incredibly surprised to find out I was successful in gaining a performance spot. In the waiting room, I was warming up my voice with other competitors and their voices were so unbelievably good, I was sure I wouldn't get further! I am very excited to have this opportunity to sing at Harewood with an orchestra and meet professional singers."
The competition was launched this year to raise funds for Candlelighters, the festival's charity partner who will use the money raised through Yorkshire's Got Young Talent to support the work of the Children's and Teenage Cancer Unit at Leeds General Infirmary (LGI) and the families whose children are being treated there.
The scheme was also developed to give young soloists who specialise in classical and operatic singing a chance to build their confidence on a regional level, so that Yorkshire can discover and support its stars of tomorrow in climbing the ladder to national or even worldwide glory.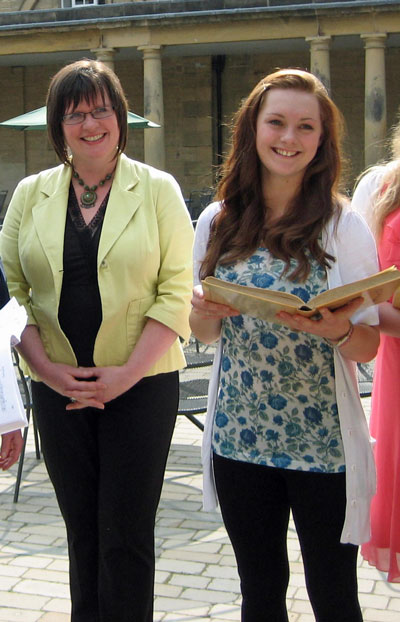 Emma Hart (right) with Anna Cunningham of Ultimate Voice
Gary Verity, Chief Executive of Welcome to Yorkshire endorses the initiative: "This popular festival is one of the North's leading classical music events. So it's great to see them not only giving Yorkshire's talent the chance to shine, but also support an extremely worthy cause."
Anna Cunningham of Ultimate Voice, Music Director for the White Rose Winter Music Festival who was on the judging panel congratulates the winners and applauds the other finalists who made it through to the auditions.
`As someone who is a part of the music industry, I am surrounded by the best of our national talent. It was quite something to discover that we had such young artists in Yorkshire who were all, without exception, capable of performing to such a high standard. Every one of our candidates was a potential winner but Ravi and Emma were truly exceptional.'
Sarah Moriaty from Armley, Sophie Hurst from Littlethorpe, Megan Hooson from Knaresborough, Emma Kennedy from Wetherby, Rebecca Widdicombe from York, Kathryn Huntley from Harrogate, Emily Hobson from Yeadon, Leeds, Sam Duffield from Hutton Conyers, George Longworth from all performed outstandingly at the auditions and White Rose Festivals would like to thank everyone for entering and encourage all those eligible within the 16-18 age bracket to apply again next year.
To see the Yorkshire's Got Young Talent winners live, you can book tickets for A Night at the Opera either through the White Rose Winter Music Festival website www.whiterosefestivals.com or through the festival box office 01423 563563.
Other shows include A Night in the West End, Friday 18th November and A Night at the Proms, Saturday 19th November. Seats are limited and tickets are booking fast.