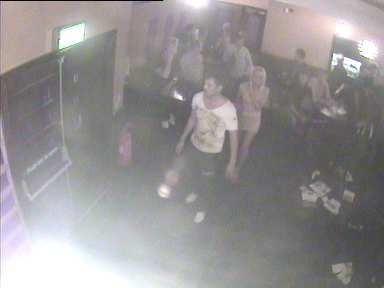 Skipton police are investigating after a man was assaulted in a local pub.
The victim, a 24-year-old local man sustained a split lip and bruising to his face when he was attacked in Wetherspoons, on Newmarket Street, in the early hours of Sunday 17 July 2011.
At around 12.40am, the victim walked into the pub and stood at the bar. A short time later he was approached by a man who repeatedly punched him before leaving the pub in an unknown direction.
The offender is described as white, around 5ft 10in tall, in his late 20s, well-built, with spiky brown hair. At the time of the incident he was wearing jeans and a white v-neck t-shirt with blue and pink writing on the front.
Officers have been making enquiries in the area and have identified a suspect from the pub's CCTV footage.
PC Adam Steventon, of Skipton Safer Neighbourhood Team, said: "This was a nasty assault which appears to have been unprovoked.
"Having viewed CCTV footage from the pub, we have identified a man believed to be responsible for the incident.
"I am appealing to the public to help us by telling us who is. If you recognise him or witnessed the incident itself, please contact the police or Crimestoppers with information."
The victim was treated for his injuries at Airedale General Hospital but was not seriously hurt.
Anyone who can help the police with their enquiries is urged to contact PC Adam Steventon, of Skipton Safer Neighbourhood Team, on 0845 60 60 24 7, quoting reference number 12110118449.
Alternatively, Crimestoppers can be contacted anonymously on 0800 555 111.