Hard working Henshaws College students celebrated their achievements with delighted parents, tutors and friends at an uplifting and emotional graduation ceremony.
The event acknowledged the culmination of three years of education and guidance for 25 visually-impaired and disabled students, who have learnt valuable life and employment skills, equipping them to make a successful transition to the next stage of their lives.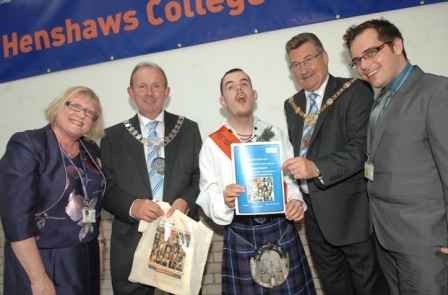 Gill Jennison – acting principal at Henshaws College, the Mayor of Knaresborough – Andrew Willoughby, Jon Pratt, the Mayor of Harrogate – Les Ellington, John Mitchell – ICT course team leader at Henshaws College
Cllr Les Ellington, Mayor of Harrogate and Cllr Andrew Willoughby, Mayor of Knaresborough, joined Henshaws College director of curriculum and acting principal Gill Jennison to co-present certificates and "transitions passports" which summarise what students have learned and the qualifications they have gained. The graduates were also given a yearbook, a DVD featuring the students and a talking alarm clock as a leaving gift.
Gill Jennison opened the event by congratulating the students on their hard work in learning practical skills to enable them to look after themselves, as well as picking up technological and advanced social skills and the ability to work with other adults.
Student Phillip Potts, 22, said: "I'd like to move into supported living and take a college course. I want to thank all the staff at Henshaws who helped me find confidence to do so many new things."
Fellow student John Pratt, 21, added: "I had a fantastic time at college. My favourite thing was working on hospital radio because I enjoyed playing songs for everyone. I will miss Henshaws and I want to say good luck to all leavers."
John's mother, Carol Pratt, said proudly: "John has spent an enjoyable two years at the college. Staff at Henshaws have provided our whole family with a tremendous amount of support– which I am truly grateful for. They are a fantastic team that have made a huge difference to the lives of so many young people.
"I'm thrilled to see John graduating today. He had a wonderful time at the college and he will carry his experience with him throughout his life."
Following the graduation two further awards were made, congratulating students on their enthusiastic approach to life and learning. The Maxine Foster award was won by Mohammed Faysal Ansar and the Joshua Rayner award went to Terri-Anne Walker. These awards were established in memoriam of a former Henshaws staff member and student respectively.
Cllr Less Ellington, Mayor of Harrogate said: "This was a moving experience. I've been to a few graduations and this was one of the most uplifting, as we witness how the students overcome challenges, develop the self confidence to be themselves as well as inspiring those around them."
Cllr Andrew Willoughby, Mayor of Knaresborough, said: "I have visited Henshaws on several occasions and this is my first graduation ceremony – which has really helped to bring the whole concept together for me. It's wonderful to see the pleasure that the college is bringing to so many people, both students and parents alike."
Gill Jennison concluded: "The graduation is a momentous milestone in our calendar and it's a privilege to watch the students grow up and mature. We give them many challenges to overcome and they show great courage and determination. They are now equipped for the next stage of their lives and we are immensely proud of their achievements."
Henshaws College caters for more than 70 full-time students; most have a visual impairment as well as complex physical disabilities and learning difficulties. The majority are residential, but the college also offers day college placements to local young people and a range of school link courses to pupils from Harrogate and Leeds high schools.
The college's aim is to promote independent living and employability skills. Its specialist curriculum covers vocational training in five pathways (hospitality, retail and administration, horticulture, arts and crafts, and media and communications), independence skills, mobility and travel training, sports, fitness and leisure, literacy and numeracy – as well as offering support in physiotherapy, occupational therapy and speech and language.