Cause (UK) Limited, a new ethically-motivated business, has been launched this week to meet the niche needs of charities. The business specialises in providing cost-effective fundraising and marketing services to charities, corporate social responsibility teams and social enterprises.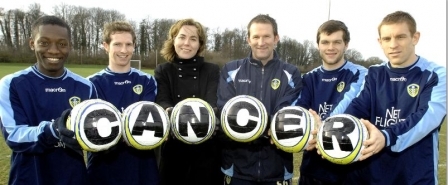 Clair Challenor-Chadwick with Leeds United Football Club players
Clair Challenor-Chadwick, 37, Director of Cause said: "As the Third Sector experiences an increasing period of instability, redundancies and restructuring, I decided to formerly launch my new website www.cause.uk.com and business this week. In today's environment fundraising and marketing is more important than ever before. And this is where Cause can help. We deliver outcomes in a shorter time-frame guaranteed to be cheaper than a fully employed member of staff, with an average cost to income ratio of 1:6."
Cause aims to cut charities' costs and de-risks charitable expenditure. Miss Challenor-Chadwick said: "The aim is to allow organisations to spend more time and energy on the important work they do."
The business specialises in marketing, event management, legacy-fundraising, bid-writing and PR, in essence offering an outsourced marketing and fundraising department, without the charity incurring NIC expenses, recruitment costs and other associated 'on-costs'.
Miss Challenor-Chadwick added: "I'm a strong believer in using business acumen to make charities flatter and more efficient. I launched Cause because ultimately everyone can feel impassioned about a just cause but can get frustrated at the expensive running costs many charities incur."
A graduate of the University of Warwick and University of California, San Diego, Miss Challenor-Chadwick worked in the City for Cater Allen Private Bank and Evolution Consulting before becoming responsible for TK Maxx's dynamic Corporate Social Responsibility programme. She then spent six years at Action for Children (formerly NCH). More recently she was responsible for raising more than £6m per annum as the Head of Marketing and Fundraising for Yorkshire Cancer Research.
Her current client lists includes, The Haven, breast cancer support services, Buglife – The Invertebrate Conservation Trust, Donna's Dream House, who deliver respite holidays for terminally ill children in Blackpool and The Clervaux Trust, who work with some of the most disadvantaged and disenfranchised young people in the North East.
In recent months, Cause has achieved high profile media coverage on local TV news, Yorkshire-wide press and national exposure in The Daily Telegraph and Hello magazine for clients. This year projects have included working with celebrities such as Marco Pierre White, Germaine Greer, Bill Oddie, Gok Wan and Tony Blair to raise awareness and funds for charity clients.
Cause also works with corporate responsibility teams linking corporate giving to worthy charities to secure efficiency and brand protection whilst ensuring maximum PR outcomes. In a similar capacity, CAUSE works with philanthropists matching their charitable objectives to worthy beneficiaries.