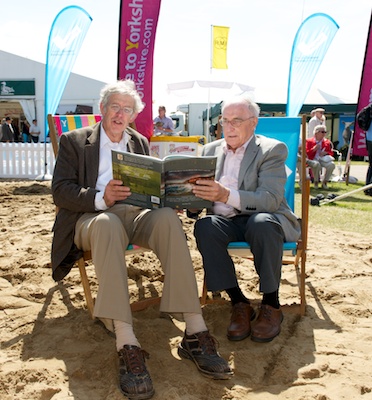 A man-made beach shipped from Scarborough to Harrogate has provided the unusual backdrop for the launch of a brand new book about the coast.
The "Edge of Heaven: The Yorkshire Coast" was launched today from the first ever beach to be created at the Great Yorkshire Show.
The Welcome to Yorkshire Beach was made from ten tonnes of sand, brought to the Harrogate showground from the shores of Scarborough.
The Edge of Heaven is a collection of specially commissioned and personal pieces from a selection of fine writers who are all connected to the county.
Backed by Welcome to Yorkshire, the new coffee table book was launched today at the Great Yorkshire Show by two of its esteemed contributors.
WR (Bill) Mitchell MBE, who has written nearly 200 books, was at Welcome to Yorkshire's stand along with David Joy MBE, a known expert on Yorkshire and the Dales, for the official launch.
Gary Verity, Chief Executive of Welcome to Yorkshire, said: "We are very proud to launch the Edge of Heaven to the public who have been able to meet two of the writers for themselves.
"Our Welcome to Yorkshire Beach at the Great Yorkshire Show has been the perfect place to launch this exciting book which we are sure will inspire visitors to take a trip and see our glorious coastline first-hand for themselves."
Bill is the current President of the Yorkshire Dales Society and has an unparalleled knowledge of the Yorkshire Dales. As the former editor of the Dalesman and Cumbria magazines, he has interviewed many of the 20th century's great literary figures from Wainwright to JB Priestley to Alf Wight (AKA James Herriot).
David founded Great Northern Books in 1998 and is now its editor as well as the author of more than thirty books. He was secretary of the Craven Branch of the Council for the Protection of Rural England (CPRE) for 38 years, and was also the CPRE's North Yorkshire County Branch Chairman for several years.
Other contributors to the Edge of Heaven include: Ian Clayton, Margaret Drabble, R.J. Ellory, Lee Hanson, Roy Hattersley, David Joy, Ian McMillan, W.R. Mitchell, Blake Morrison, Alan Plater, Selina Scott and Martin Wainwright.
Published by Great Northern Books, The Edge of Heaven is available from all good book stores and is backed by Welcome to Yorkshire and the Yorkshire Post.