A motor homes business, launched over a kitchen table a year ago, has delivered a turnover of £55,000 in its first 12 months and it's looking forward to further expansion, thanks largely to stay-at-home Brits looking to holiday in the UK.
Former firefighter Annette Wingate is riding the boom in the motor home holiday market, after stumbling on an effective business plan while researching the cost of buying a vehicle herself.
Less than 12 months later, the business has grown big enough to move into premises near Wetherby.
Harrogate Motorhomes Ltd is now set to acquire its third vehicle while the business is also on the lookout for motor home owners willing to consider hiring their vehicles to help meet demand.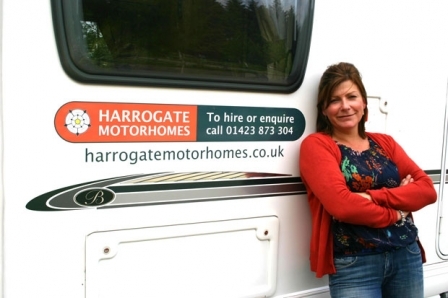 Annette, 42, explained: "When I was thinking of buying or hiring a motor home, I discovered there wasn't a lot of choice in our area so I thought I'd do a bit of research. The more I investigated, the more there seemed to be a gap in the market – so I decided to see if I could fill it.
"I just thought about what I would want from a touring holiday when I made a booking and went from there.
"One of the most important principles was that we'd be family-friendly – and that includes pets. Dogs are definitely welcome and we'll do what we can to ensure they're catered for.
"Non-slip food and water bowls, dog blankets, a tennis ball and ball-flinger can all be provided on request as well as a spiral tether.
"But it's not just dogs. We even had a couple ask if they could bring their pet house rabbit which we assured them was fine – as long as it didn't chew anything!"
To help keep pace with the growing demand, Annette is also hoping to expand further by hiring other people's motor homes out for them.
"It's amazing how many people have a motor home sitting on the drive for most of the year," she said. "Why not offer them the opportunity to earn an extra income from their vehicle?
"However, my long-term aim is to have a whole fleet of motor homes coming in and going out all the time, providing jobs for sales staff, an admin team and a maintenance crew – maybe even motor home sales."