The North Yorkshire Council is planning to raise an additional £282,000 by increasing parking charges within Harrogate.
Outlined in a County area planning committee report on the 9th June 2011, the increases will bring parking charges to what the council believes to be more in line with other towns.
Since January 2011 local authorities have had freedom to set parking charges. The coalition government ended a requirement to comply with a policy to set parking charges to encourage the use of alternative forms of transport which was originally contained in the National 'Planning Policy Guidance 13: Transport (PPG13)'.
The current charges will increase depending on the zone:
Short stay – increase charges by £0.10 per 20 minutes
Inner zone  – increase charges by £0.10 per 30 minutes
Outer zone – increase charges by £0.10 per 30 minutes
The County Council has benchmarked parking charges against 13 other Towns/ Cities and concluded that 6 are higher, 4 similar and 3 lower than the current charges.
The parking charge increase will put Harrogate amongst the highest charging band.
York, Leeds, Oxford, Newcastle, Eastbourne and Doncaster were higher, Rotherham, Leamington Spa, Preston and Barnstaple similar and Warwick, Wakefield and Halifax charging less.
There would be a cost of £5,000 in re-programming the on-street pay and display machines.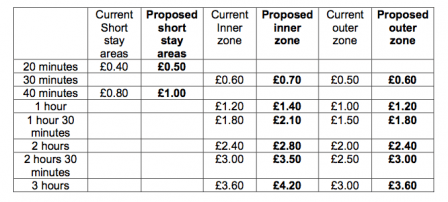 Harrogate Borough Council are also reviewing off-street parking charges. The policy is to set on-street parking to a similar cost to the most expensive off-street to encourage the use of off-street parking.
The proposal will now go to the Council Executive for a final decision.
Join the discussion in the Harrogate Discussion Forum