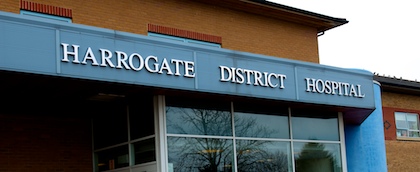 Harrogate could be set to offer local patients the very latest in cancer treatment if plans for a multi-million pound new cancer unit next to the District Hospital are approved by Harrogate Borough Council. And the plans are all thanks to the generosity of a Yorkshire businessman.
Harrogate and District NHS Foundation Trust (HDFT), in partnership with Macmillan Cancer Support, have submitted plans to Harrogate Borough Council for a new cancer unit, to be named the Sir Robert Ogden Macmillan Centre, after its benefactor, who is donating £3.5 million to help pay for the scheme.
Macmillan Cancer Support and Harrogate and District NHS Foundation Trust are contributing the remaining funding for the scheme, which will also include building new car parking to replace what will be lost when the new unit is built.
Paula Middlebrook, Lead Cancer Nurse at Harrogate and District NHS Foundation Trust, said:
"Macmillan recently rated our cancer services here in Harrogate as the best in the country, from the experiences of patients. Now we have the chance to make our service world class by building this new cancer unit to offer state of the art treatment and facilities."
Richard Ord, HDFT Chief Executive, said:
"In these challenging financial times for the NHS we would not be able to do this without the amazing generosity of Sir Robert Ogden and Macmillan Cancer Support and we are extremely grateful for their involvement. We want to offer cancer patients across Yorkshire the very best we possibly can and this new unit will make that possible."
The new unit is being proposed in partnership with Macmillan Cancer Support, who originally funded the current, highly successful Macmillan Dales Cancer Unit at the Hospital.
Maureen Rutter, Macmillan Cancer Support Director said:
"Macmillan is delighted to be working in partnership with Harrogate and District NHS Foundation Trust to build what I hope will prove to be an iconic oncology centre, where local people will experience the very best in cancer care and support.  We are particularly pleased that Sir Robert Ogden, with whom Macmillan has a very longstanding relationship, has agreed to make an incredibly generous donation towards this project.  Sir Robert was knighted for his services to charity in his native Yorkshire and he has taken a great interest in the plans for this project and has participated closely in its design and development. He funded a similar project with Macmillan which was built in the grounds of St James's Hospital Leeds and opened in February 2000."
Should planning permission be granted by the Council, work is planned to begin in the summer with the demolition of a small number of hospital office buildings on the corner of Lancaster Park Road and Wetherby Road to make room for the new unit.
Angie Gillett, Deputy Director of Planning for HDFT said:
"We recognise that there will be some disruption due the building work, but believe it is worth it for the additional and improved cancer services that the new unit will provide. We are keen to work with the local community to let them know about our plans and minimise any disruption.
For that reason, the Trust is holding a public information event in the Elmwood Unit at Harrogate District Hospital, from 6-7.30pm on Thursday 16 June, where people can find out more, and chat to members of our Cancer team about how the new development will benefit patients. Our Planning team will also be on hand to answer any questions about how the building work is planned to take place. We would be delighted to welcome local residents along to talk about our plans to further improve cancer services for local residents."