A charity's mascot was among scores of visitors who attended the launch of a new Harrogate gym.
Martin House Children's Hospice mascot, Marty Bear, was put through his paces by CrossFit HG3 owners Andy Ruddick and Peter Davis, who have opened their venue at Pannal Business Park.
The pair, both experienced personal trainers, have named Martin House Hospice as their chosen charity of the year .
In addition for asking for donations from visitors to their open weekend, the gym and its members will be undertaking a series of fund raising events for Martin House during the course of the year.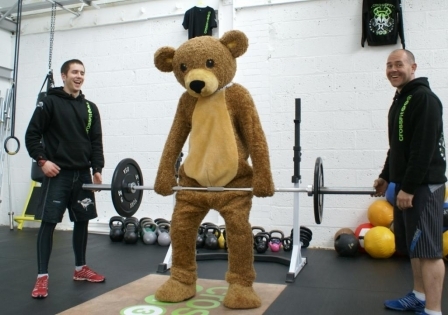 Andy Ruddick said: "CrossFit HG3 is a gym for the whole community and its sessions are suitable for the entire family.
"Because of this, we wanted to support a local charity plays a valuable community role. We have named Martin House as our nominated charity for the year because it plays a very important role within Yorkshire, helping very ill children and their families."
Peter Davis said: "Over the course of the year we intend to organise a number of fundraising initiatives, all for Martin House Hospice, and all based around fitness."
Brenda Peel, Martin House Corporate Fundraiser said: "We are delighted that Andy and Peter have chosen Martin House Hospice as their charity for the year.
"We rely heavily on the generosity of businesses and individuals to fund the hospice, and the support of CrossFit HG3 means a great deal to us."
CrossFit is favoured by military special operations units, champion martial artists, emergency services and professional athletes worldwide.
It concentrates on building physical skills; Cardio-respiratory, Endurance, Strength, Flexibility, Stamina, Speed, Power, Accuracy, Agility, Balance and Co-ordination without using conventional machines and workouts.
CrossFit HG3 is one of only 35 affiliates in the country specialising in this form of inclusive fitness.