North Yorkshire Police and the "95 Alive" York and North Yorkshire Road Safety Partnership are joining forces with colleagues across Yorkshire and Humberside to support one of the largest motorcycle safety campaigns ever undertaken in the region.
The show of force is in response to the number of bikers who continue to be killed or injured on the region's roads, despite widespread publicity about the tragic consequences of irresponsible riding.
Last year, 18 motorcyclists and two pillion passengers died on the roads of North Yorkshire. Approximately three quarters of those deaths were due to rider error.
This highlights the need for bikers to improve their riding skills and part of the campaign will be to engage with motorcyclists and encourage them to take advantage of some of the extra tuition available.
This year's campaign will also be underpinned by tough law enforcement on popular biker routes throughout the biking season.
Research shows that North Yorkshire's casualties come to the county from all over the North East region, from the Tyne to the Humber, showing a need to target riders from outside the county and ensure they go home again safely. Throughout the campaign, officers from all the region's police forces will join together to support numerous enforcement operations both in North Yorkshire and neighbouring counties.
Inspector Dave Brown, Head of Strategic Roads Policing for North Yorkshire Police, said: "We are determined to prevent a repeat of last year's tragic death toll.
"The small number of riders who think that our road network provides an alternative 'track day' where anything goes, should think again."
During busy periods, such as bank holidays, when scores of bikers take to the county's roads, extra patrols will be deployed on popular biker routes to enforce road safety laws and ensure that riders are behaving responsibly.
Police teams will make full use of unmarked police motorcycles which will be deployed to gather evidence of dangerous and anti-social riding.
"There will be no escape for those who choose to break the law", added Inspector Brown, "We are not out to persecute all bikers, far from it. Many police officers are recreational riders and fully understand why North Yorkshire is a magnet for bikers.
"However, we will not tolerate the dangerous minority who risk their own and others lives. Together with our partners in North Yorkshire and across the region, we all share the same aim of saving lives and preventing injuries.
"Anyone who is putting their own or other road users' lives at risk can expect to be stopped by police and dealt with robustly."
Inspector Dave Brown (centre) with roads policing officers from North Yorkshire, South Yorkshire and Humberside and the "95 Alive" campaign vehicle
The 95 Alive partnership will support the campaign with regular education and awareness road-shows to encourage bikers to improve their skills. This will be reinforced with a DVD featuring riding clinics, which will be handed out to bikers free of charge.
The partnership has also produced a free Bikers' Guide to North Yorkshire which will be handed out to bikers throughout the summer at various locations.
The Bikers's Guide to North Yorkshire includes:
Maps and advice on riding stretches of road where bikers regularly come to harm
Information on bike care and kit
First Bike on Scene First Aid Courses
Riding tips, including group riding
Information on Bikesafe courses which will improve your skills and handling
Possible traffic offences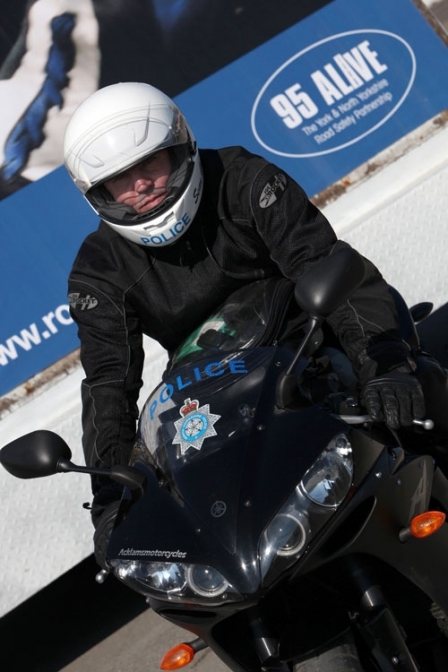 Dave Bowe, Chair of 95 Alive and Director of Highways at North Yorkshire County Council, added: "Both North Yorkshire County Council and our 95 Alive partners are determined that we will reduce the number of motorcyclists who are injured or killed on our roads.
"This county is a beautiful place to live and to visit. Year after year some of our most scenic routes are marred by the serious and fatal crashes involving motorcyclists.
"We encourage motorcyclists to enjoy our roads responsibly and to come back again. We also offer our full support to our police in their enforcement of the law for the minority of bikers who come here determined to flout the law and thereby place themselves,our residents and other visitors at risk."
Both the guide and DVD can be viewed following this link. www.northyorkshire.police.uk/bikers
A series of Bikesafe courses which include assessed or observed rides will take place throughout the biking season. North Yorkshire's dates and venues to follow.
Related stories:
Fatal motorcycle collision – A661 between Plompton and Kirk Deighton
Motorcyclist airlifted to LGI following collision in Harewood
Biker hurt in serious collision