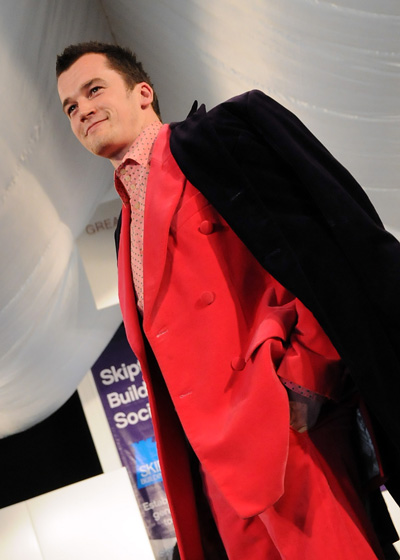 Aspiring models who live or work in the countryside are being urged to step onto the catwalk and enter a fun competition to find the faces of the 2011 Great Yorkshire Show.
Two years ago, the Yorkshire Agricultural Society, which organises England's premier agricultural show, held the first-ever competition to put young farmers on the catwalk.
The contest attracted dozens of entries from across the north of England with the finalists strutting their stuff down the runway in the Great Yorkshire Show's popular Fashion Pavilion.
Now the competition has been renamed as Country Catwalk Stars, and extended to include both women and men. The final will be held on Tuesday 12 July, the opening day of the 2011 Great Yorkshire Show at Harrogate.
Two years ago, Jimmy Atkinson (pictured) from Weardale was chosen as king of the runway from the six finalists, and he is now urging people to follow in his footsteps!
Aged 27, Jimmy grew up on his parent's farm where he still helps out at weekends. "Taking part in the competition was great fun and a brilliant experience. Being part of the Great Yorkshire Show was fantastic for me and although I've not pursued a career in modeling, I enjoyed every minute of taking part," he said.
Who can enter? – Anyone who lives or works in the countryside and is aged between 16 and 29 years. And it's not only young farmers who are being urged to strut their stuff, you might be a keen horseman or woman, work in a rural veterinary practice, be a gamekeeper, or work in the forestry sector.
At the show the finalists will join the professional models on the catwalk when a panel of judges will chose the male and female winners. As well as sharing prize money of £500, the winners will be offered an introduction to modeling with West Yorkshire's Morton Gledhill Fashion Team, plus there is a case of Black Sheep beer and £100 worth of skincare products on offer. The deadline for entries is Friday 6 May.
Interested? – to enter download an application form from the show's website – www.greatyorkshireshow.co.uk or if you have a query email Sally Wall on sallyw@yas.co.uk or call 01423 546218.