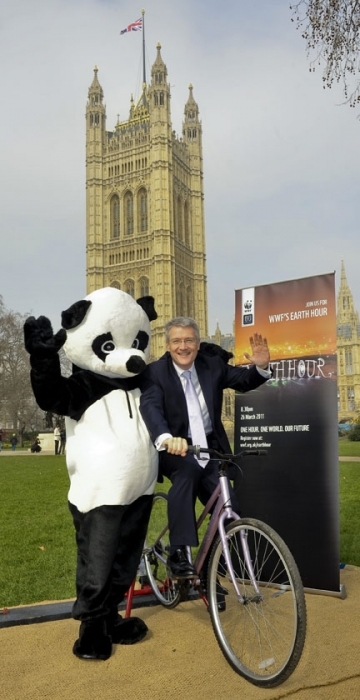 Andrew Jones MP got on his bike on Tuesday 15 March to pedal with WWF's mascot panda for Earth Hour, the world's biggest call for action to protect the planet.
On 26 March, between 8.30pm-9.30pm, the global skyline will be plunged into darkness as families, businesses and organisations across the world switch off lights to show they care about tackling climate change and safeguarding the natural world.
MPs from across the UK showed their support for WWF Earth Hour by pedalling bikes to power up batteries which will be used to project natural world images onto the Royal Albert Hall during Earth Hour.
Mr Jones said: "I'm pleased to be able to show my support for Earth Hour. We only have one planet Earth and it is our responsibility to come together to protect it from climate change."
Earth Hour is a global movement that last year saw a record 128 countries and territories join the global display of climate action.
Colin Butfield, Head of Campaigns at WWF-UK said: "The challenge for our future wellbeing could not be greater. WWF's Earth Hour is a unique opportunity to join up with millions and millions of people from every time zone on the planet. The result is an urgent message that we want to reduce the impact our energy system has on our planet – a message so powerful that governments and businesses cannot fail to take notice. By acting now we can keep the future bright."
Residents for Harrogate and Knaresborough can also show their support for Earth Hour by switching their lights off next Saturday 26 March from 8.30pm to 9.30pm. Visit wwf.org.uk/earthhour to find out more or register to take part.