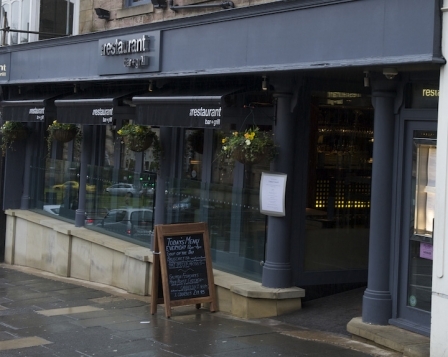 On Saturday nights customers at Harrogate's Restaurant Bar and Grill are in celebration mode.
Birthdays, anniversaries, business deals for sure. Who needs a reason, hey it's the weekend.
A restaurant giving diners that sense of occasion, whenever they turn up, has to be on the ball in all departments.     This is my second visit in a week.  Lunch with two girlfriends on a quiet week day is one thing but would it still be impressive on a Saturday night when the bar was rammed and the kitchen full on?
The only remaining time slot available for a table was 6.30pm, vacating by 8.30pm.  Fine by me, as long as the food can be delivered in reasonable time and I don't feel rushed.   A slick, well organised and amply staffed system makes this possible.
A menu of European classics, interpretations of Asian and Indian favourites, plus traditional cuts of steak cover most tastes and if not, well explained daily specials offer more to ponder.
Contrasting textures and zingy fresh tastes of the Thai-inspired chilli squid and noodle salad made a great first impression. Unlike the Nicoise salad which was missing a vital ingredient, despite the £6.95 price tag.
Tuna. Line–caught, the best yellow fin. Check.  Four quarters of a free range egg with velvety, golden yolks, cooked just right. Check. Salad potatoes, well seasoned. Check.  Ripe, cherry tomatoes and anchovies. Check. A veritable forest of French beans. What's going on? No black olives?
On ploughing through the green beans I did eventually find two or three slivers of a single green olive. Olive lovers will no doubt feel my pain.
No complaint on the meltingly tender lamb shank, unctuous minted sauce and sweet, roasted root vegetable accompaniment. And the crispy duck, sweet with honey and sesame dressing served with stir fried greens was pretty perfect. Both mains came in at £15.95.
A single sticky toffee pudding and two spoons filled the remaining gap and with a bottle of Rioja  Zarabanda the bill for two totalled £73.65.
A special occasion price but Restaurant Bar and Grill does deliver with some style – just bring your own olives.