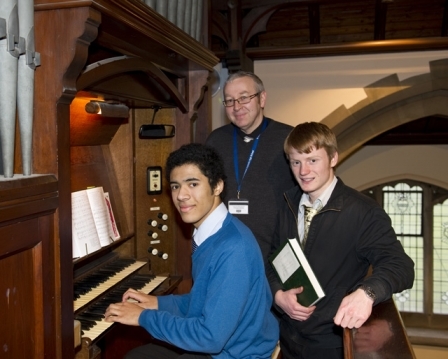 Two students from St John Fisher High School in Harrogate are triumphant after being offered scholarships to Oxbridge universities. Francis Goodburn from Clifford has won an Organ Scholarship to read Mathematics and Computer Science at St Johns College, Oxford University. Peter Thomson, from Harrogate, has won a Choral Scholarship to read Music at Selwyn College, Cambridge University. Peter has sung with the Leeds Cathedral Choir since he was twelve, as choirboy, Head Boy Chorister and now as part of the adult choir.
Enhanced career opportunities
In return for upgraded accommodation, use of excellent facilities and financial reward, Organ and Choral Scholars are often expected to provide music in the college chapel several times a week, recruit and train choirs, direct and conduct music, arrange tours and perform in front of hundreds of people – in addition to their degree studies. They often go on to be professional conductors, pianists, singers, organists and members of professional choirs, but like Francis, not all will read Music at University. The benefits for those who don't choose to pursue a musical career include a wide network of friends, increased confidence and a great deal of skill and life experience.
"Those lucky enough to be awarded Organ and Choral Scholarships for Oxbridge Universities are presented with an extraordinary opportunity," says Nigel Beetles, Assistant Head Teacher and Head of Performing Arts at St John Fisher. "In addition to the kudos of having a revered Oxbridge education, they will be mentored by esteemed professional musicians, encouraged to enrich their musical intelligence, develop expertise in classical and modern music production, hone leadership skills, travel the world and ultimately broaden their career opportunities."
Hard work and encouragement reaps rewards
The boys had a taste of what they are about to experience when they collaborated last year to write two settings for the mass at the school's 50th anniversary held at the Great Yorkshire Show Ground. Peter says, "Providing the musical score and orchestrating the mass last year helped give us the confidence and experience to audition for the scholarships. Singing both with the Diocese of Leeds and with the school has brought great benefits and I have met many like-minded people who have supported and encouraged me. Francis and I would particularly like to thank Sheila Ambler, Chair of Governors, Miss Brookes, Head of Music, and Mr Beetles from the school, without whom this opportunity would have been a pipe dream. The scholarships will really help us pay for our time at university and we are very excited about the challenge."
Academic Success
Studying A level French, Mathematics and Ancient History, Peter, who plays the French Horn in addition to singing, has already achieved 12 GSCEs and A-grade A level Music. He requires three A-grade A level results to secure his offer from Cambridge. Francis has been the school pianist and chapel organist ever since Year 7. In addition to his musical prowess, he has so far achieved 14 GSCEs, A* level Music and is studying A level Mathematics, Further Mathematics, Chemistry, Physics and French. He needs an A• in A level Mathematics to secure his offer from Oxford.
Nigel Beetles and Paul Jackson, Head Teacher, commented, "We are immensely proud of Peter and Francis. During the seven years that they have been at the school, they have contributed a huge amount of time and effort to composing, performing and supporting younger music students. It is testament to their dedication, talent, drive and personable natures that they were chosen from all the national applicants and we have no doubt they will achieve the required A level results. "
"Christian values are at the heart of our education and we are delighted that the boys' interest in traditional church music will be helping them as they further their education. It is extremely unusual for two pupils from one school to have won Oxbridge Organ and Choral Scholarships in just one academic year. Five of our students have been awarded provisional Oxbridge places this year, which is a real coup for the school and shows what high calibre of candidates we have here."
St John Fisher Catholic High School and St Aidans  C of E High School combined sixth form offers the widest range of A level courses in Harrogate. Thirteen of their students in total have been offered provisional Oxbridge places.
http://www.school-portal.co.uk/Grouphomepage.asp?GroupId=21447
_________________________________________________________________________
story/photo by SIRA Studio