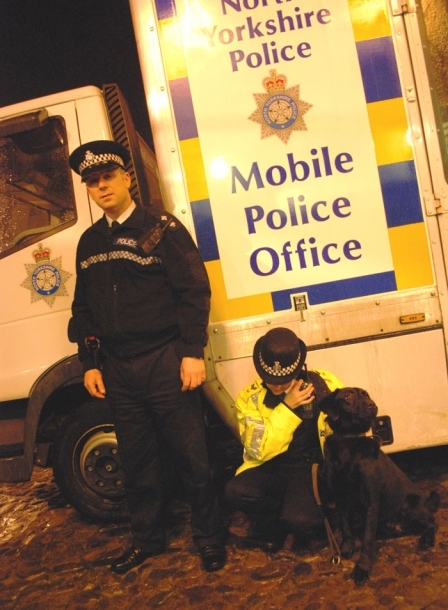 Thirsk police mounted an anti-drugs operation on Saturday night (5 Feb) to send a clear message that drug crime will not be tolerated in the town.
With assistance from two drug detection dogs, around 30 officers – including 13 Special Constables – searched four pubs in the town centre and Carlton Miniott.
The dogs are specially trained to sniff the air around people to detect the scent of drugs.
The main aim of the operation was to root out existing drug users and dealers and to act as a warning to anyone thinking of coming to Thirsk to ply their illegal trade.
Inspector John Wilkinson of Thirsk Safer Neighbourhood Team, said: "Thirsk police have an excellent relationship with local landlords, demonstrated by the success of the Pubwatch scheme and this operation shows how well the scheme is working.
"We are pleased to say only one person was found in possession of cocaine and was issued with a caution. Another was arrested for a public order offence. The dogs detected seven other people but none were found in possession of any drugs"
Inspector Wilkinson added: "Thirsk is a lovely place with a thriving night-time economy, people have a right to enjoy the town without the scourge of drug use and the associated anti-social behaviour and criminal activity"
"The operation had two aims; firstly to root out those who misuse and deal in drugs and secondly to send a clear message to anyone thinking of coming to Thirsk, intent on using or selling drugs that it won't be tolerated"
"We will do everything we can to disrupt their activity"
"This is the first operation of its kind in Thirsk and more will follow – without warning. Our thanks go to local landlords for their continued support and cooperation."