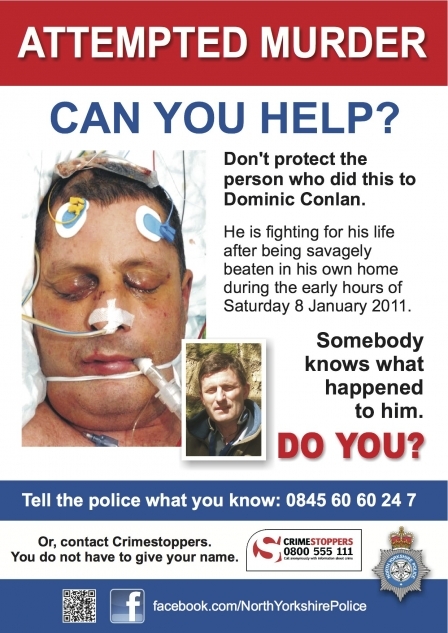 Detectives investigating the attempted murder of Dominic Conlan have intensified their search for information.
Between 1am and 3pm on Saturday 29 January 2011, officers stopped pedestrians and motorists in The Groves – the area of York where Mr Conlan lives.
Mr Conlan  remains seriously ill in Hospital.
Passers by were being asked for information, exactly three weeks since the incident, in an effort to establish who is responsible for his life-threatening injuries.
During the operation officers, put up posters in the area and handed out leaflets to reinforce their appeal for witnesses. The posters and leaflets bear a barcode which, when scanned by a mobile phone, takes you directly to the North Yorkshire Police Facebook appeal for witnesses.
So far, over 2,700 people have visited the site, helping to raise awareness of the appeal to trace who is responsible for the attempted murder of Mr Conlan.
Further forensic examinations have also been conducted at Mr Conlan's Flat in March Street. He remains seriously ill in Leeds General Infirmary with severe head injuries sustained when he was savagely attacked in his own home during the early hours of Saturday 8 January 2011.
Despite the investigation team receiving around 20 calls from the public in response to the emotional appeal made by Mr Conlan's family on Tuesday 25 January 2011, detectives are still searching for the vital piece of information that could lead them to who is responsible for inflicting Mr Conlan's life-threatening injuries.
Detective Inspector Adrian Gathercole, of York CID, said: "Despite our extensive investigations and appeals for information we are still missing the crucial information that will lead us to whoever inflicted Mr Conlan's horrific injuries. "We have received some good information through Crimestoppers which we are very grateful for.
However I still urge people to contact the police directly. I give my assurance they will be treated in the strictest of confidence if that is their wish.
"Mr Conlan was subjected to a vicious and sustained attack which has left him fighting for his life. There are people out there who know what happened to him. I ask those people not to think about themselves and worry how others may perceive them by assisting the police, but think about Mr Conlan in hospital and his family who pray for his recovery."
Appeal to trace vital evidence
Detectives are also appealing for help to locate a distinctive tracksuit top and a black-coloured Dell laptop belonging to Mr Conlan which could be crucial to the case.
Officers believe that the item of clothing may have been discarded by a suspect following the attack. It is believed the laptop was stolen from Mr Conlan's flat during the same period.
DI Gathercole added: "The tracksuit top we are looking for is white with a green stripe or stripes down the arm. There is a possibility that it is an Adidas brand, but we are interested in locating any make of tracksuit top which matches the description. "From our extensive investigation into the attempted murder of Mr Conlan, there is a real possibility that someone involved in the incident has made off from the victim's flat and taken off the tracksuit top.
At this stage we do not know if it was dumped in a hedgerow or in a nearby refuse bin, or discarded or hidden away by some other means. "Either way, it is very important that this garment is recovered as it could be crucial to the investigation and our efforts to seek justice for the victim and his family.
"I urge anyone who knows the whereabouts of this distinctive white tracksuit top with a green stripe or stripes down the arms to get in touch with the police or Crimestoppers as a matter of urgency."
Further arrests
There have been two further arrests by police investigating the attempted murder of Dominic Conlan.
*A 20-year-old man from York has been arrested in connection with the attack on Mr Conlan and has been released on bail after being questioned by police. *A-15-year-old boy from York has been arrested in connection with the laptop which was stolen from Mr Conlan's flat on the night he was attacked. The laptop has yet to be located. He has been released on police bail as enquiries continue.
Anyone with information that could help lead the police to those responsible for the attempted murder of Dominic Conlan is urged to contact York CID, on 0845 60 60 24 7, quoting reference number 12110003728.
Alternatively, Crimestoppers can be contacted anonymously on 0800 555 111.