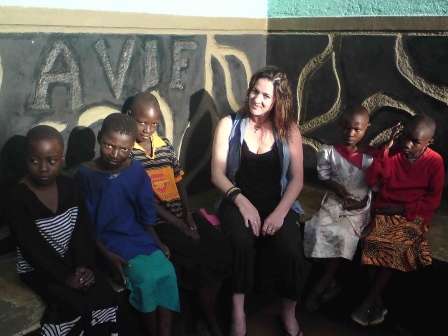 A NORTH Yorkshire woman who runs a volunteering charity from home hopes her experiences will encourage more people to support sustainable development in rural Kenya.
Alison Lowndes, from Summerbridge, launched global online volunteering organisation AVIF in 2006 and in April last year she took her two teenage children to visit some of the charity's key projects in Kenya.
"Jackson (pictured), is a 'modern maasai' who lives in a tiny village on the border of Kenya and Tanzania," explained Alison. "He also moonlights as a night watchman, in order to earn more money, at an eco-camp on the coast."
Last summer two English girls and a Czech volunteer spent time working with Jackson's community, in the village of Enkito close to Amboseli National Park, overlooked by Kilimanjaro.
"The volunteers were learning the maasai way of life and teaching their hosts about their own lifestyles, spending their mornings teaching the children and walking with the villagers in the afternoons gathering vital information about the water supply," said Alison.
"This time last year saw the first mass relocation of 7,000 wilderbeest and zebra by the Kenyan Wildlife Service into Amboseli National Park after the previous year's drought severely affected the area.
"While areas like Queensland, Australia, Brazil and SW Asia are being devastated by flood, areas like Amboseli are seeing so little water that 60% of wildlife are dying, including the Maasai cattle, which they centre their lives around."
Alison said her charity had been set up online to allow people to support it and follow its progress remotely.
"Volunteering can be very empowering if you have the time or money to spare but online volunteering allows you to assist projects from the comfort and ease of your own home or office computer, whenever you have a spare minute," she said.
"You can assist projects in Kenya and also river communities in the Brazilian Amazon and on the "roof of the world" in Tibet," she said.
AVIF keeps its costs low by operating online and uses internet and social media technology like Facebook, Skype and Twitter alongside mobile phones and text messaging to bring people together to help.
Contact Alison for further information on Volunteer@AVIF.org.uk or via www.AVIF.org.uk.