The Harrogate Christmas Market is taking place this year from 10am on Thursday 19 November 2015 until 5pm on Sunday, 22 November 2015.
Admission is free to the event.
Parking is available with on-street parking or at the various car parks throughout the town – see the map below.
There is also a free shuttle service from stand 1 at Harrogate bus station.
The market is a traditional Yorkshire market with many local food suppliers.
It's an opportunity to fill the stockings with traditional hand-made toys and jewellery, decorate your home with unique products from the Craft & Gift Marquee.
New for this year is a Health & Beauty Marquee.
The Food and Drink Marquee has café-style tables where you can rest and enjoy fresh coffee, tea or mulled wine with hand-made cakes, pies and biscuits. Around the site, you'll find more stalls selling a wide variety of hot and cold food and drinks.
Harrogate Christmas Market is not just about shopping, it's a great day out for all the family with many attractions for children.
There's a chance to visit Santa in his Grotto with real reindeer outside, enjoy the children's funfair from just £1 a ride, and listen to the festive music provided by local performers in our specially-created busking area.
(Please click on the images for a larger version)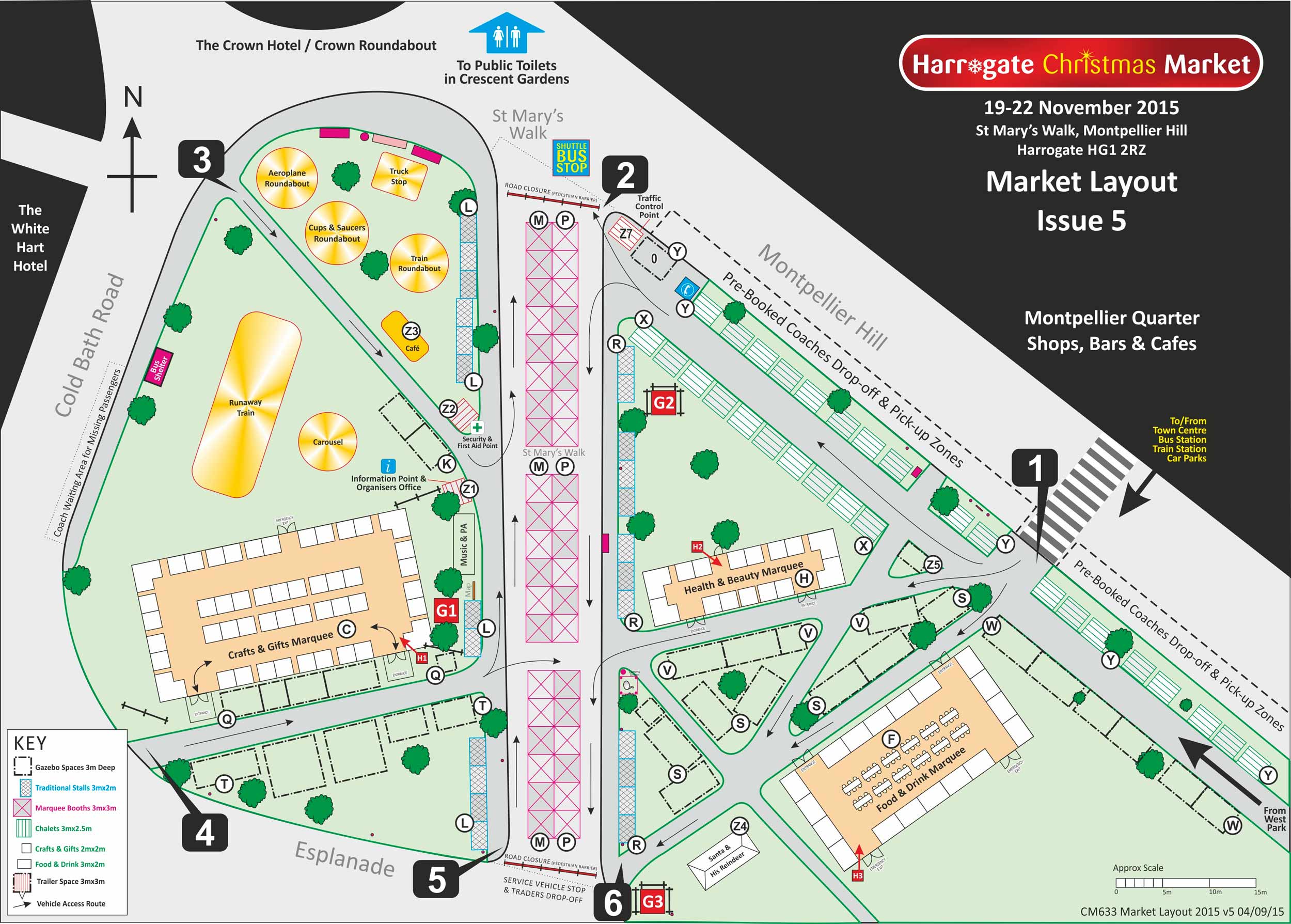 | | | | |
| --- | --- | --- | --- |
| Stall No | Company Name | Products | Website (where available) |
| | | | |
| --- | --- | --- | --- |
| M06 | Abundant Glass | Glass Art and Gifts | www.abundantglass.co.uk |
| H01 | The Academy Ltd | Neom and Espa Spa Products | www.theacademy.co.uk |
| C03 | Accent on Bears | Collectors' Bears & Memory Bears | www.accentonbears.yolasite.com |
| C05 | Active Education | Children's Country Clothing | www.actived.co.uk |
| S02 | Affordable Event Catering | Spicy Chicken & Veggie Wraps | www.affordableeventcatering.co.uk |
| Y11 | Al Fresco Design | Rustic Giftware | |
| X07 | Alhambra Palace Bazaar | Working Model Steam Boats | |
| R06 | Alison Holmes Gifts | Jewellery, Angels, Tealights | |
| X01 | Ampleforth Abbey Trading Ltd | Cider, Beer, Brandy, Juice | www.ampleforthabbeydrinks.org.uk |
| C27 | Andrea Miles Crystals Ltd | Silver Gemstone Jewellery | www.andreamilescrystals.co.uk |
| Y07 | Archipelago | Christmas Decorations | www.popupventures.co.uk |
| C41 | Azra Chocolates | Chocolate Shoes, Purses, Gifts | www.azrachocolates.co.uk |
| R09 | Back to the Past Fudge | Fudge Liquorice Cables Marshmallo | www.backtothepastfudge.co.uk |
| V01 | Bags and Gladrags | Scarves, Furs, Handbags, Hats | www.bagsandgladrags.co.uk |
| V04 | Baltzersens Ltd | Coffee & Waffles | www.baltzersens.co.uk |
| C17 | Barbara M. Clark | Handmade Christmas Decorations | |
| R03 | Basically Kits | Baking and Craft Kits | www.basicallykits.co.uk |
| M07 | Baxter Photography | Prints, Canvases, Cards | www.baxterphotography.co.uk |
| C35 | Beautifully Turned | Handmade Gifts and Pens | |
| H03 | Betty Hula | Handmade Natural Beauty Creams | www.bettyhula.co.uk |
| X06 | Birchwood Crafts | Educational Wooden Toys & Gifts | www.birchwoodcrafts.co.uk |
| Q02 | Black Yak Ltd | Fairtrade Handknit Woollens | www.blackyak.co.uk |
| L05 | Block Culture | Wood Block Inspired Prints | www.blockculture.co.uk |
| M01 | Bobbi – Handmade Children's Clothes | Reversible Children's Clothes | www.bobbihandmade.co.uk |
| M09 | The Book People | Books | www.thebookpeople.co.uk |
| P14 | Botham's of Whitby | Craft Bakery & Christmas Products | www.botham.co.uk |
| L09 | Boulevard Creative Cuisine | Smoked Condiments | www.boulevardcuisine.co.uk |
| H14 / H15 | Boundless Beads | Fine Beads and Jewellery Kits | www.boundlessbeads.com |
| Y04 | Brittains Vodka | Flavoured Vodkas | www.brittainsvodka.com |
| H02 | Brodie Skin Care | Face & Sports Moisturisers | www.brodieskincare.co.uk |
| R01 | Brown & Blond | Bakery – Brownies & Blondies | www.brownandblond.co.uk |
| W03 | Bubbles & Punch | Mulled Wine, Prosecco, Pimms | www.bubblesandpunch.co.uk |
| Y17 | Callow Hill Country Wines & Cider | English Fruit Wines and Cider | www.callowhillcountrywine.co.uk |
| M19 | Cardology Ltd | 3D Pop Up Cards | www.cardology.co.uk |
| R11 | Carthy's Country Cream | Cream Alcoholic Drink | www.facebook.com/CarthysCountryCream |
| P03 | Catfish Kids | Children's Clothes, Toys & Gifts | www.catfishkids.co.uk |
| C14 | Catwalk 100 | Handmade Jewellery & Scarves | www.catwalk100.co.uk |
| M10 | Celtic Knitwear Company | Irish Knitwear Wool Merino | www.celticknitwearcompany.co.uk |
| M05 | Cherry Tree | Chutney, Pickles and Preserves | www.cherrytreepreserves.com |
| C18 | Christopher Poole – Fine Bronze Harrogate | Bronze Sculptures Collectables | www.christopher-poole.co.uk |
| K01 | Churros & Chocolate | Churros and Chocolate + Drinks | |
| C06 | Colin Williamson Prints | Framed Prints, Mugs, Coasters | www.colinwilliamsonprints.co.uk |
| C42 | Colton Candles | Candles + Associated Products | www.coltoncandles.com |
| P19 | The Complete Knight Ltd | Swords, Shields, Dress-up Outfits | www.completeknight.co.uk |
| Y13 | Contempo Home | Home and Gift Products | www.contempohome.co.uk |
| P07 | Country Fare Ltd | Handmade Christmas Cakes | www.country-fare.co.uk |
| M16 | Crafty Bubble | Personalised Decorations | www.craftybubble.co.uk |
| C07 | Crafty Sew'N'Sew | Hand-Sewn Boxes and Gifts | www.craftysewnsew.net |
| Q04 | Crusty Pie Company | Pork Pies, Pasties, Sausage Rolls | www.crustypie.co.uk |
| P10 | Cryer & Stott Cheesemongers Ltd | Yorkshire Cheese | www.cryerandstott.co.uk |
| F10 | Daleside Brewery | Bottled Beer | www.dalesidebrewery.com |
| C10 | Deb Darling Designs | Fabric Christmas Decorations | |
| C13 | Donna McKenna | Cards Nativities Advents Gifts | |
| R04 | E F Foods | Flavoured Himalayan Salt | www.saltandspice.co.uk |
| C40 | Ebony Grace (interiors and gifts) | Plaques & Bunting | |
| L12 | Elizabeth Smedley (Yorks) Ltd | Jams and Preserves | www.elizabethsmedley.co.uk |
| P12 | Eric Binns – Whitby Jet | Whitby Jet & Gemstone Jewellery | |
| L06 | Farmers Baskets | Wooden Craft | |
| X03 | The Flat Basket Company | Folding Wooden Baskets | www.flatbasket.co.uk |
| W02 | food4festival | Hot Meats | www.food4festival.com |
| P17 | Forrest Crafts | Handmade Wooden Gifts | |
| Y06 | Fragrance Express UK | Catalytic Fragrance Lamps | www.fragranceexpressuk.co.uk |
| F07 | Frasers Mulled Wine Ltd | Homemade Mulled Wine | www.frasersmulledwine.co.uk |
| P18 | From The Source | Fair Trade Accessories | www.fromthesource.co.uk |
| F11 | Fudgeheaven | Fuffle – Fudge or Truffle? | www.fuffle.co.uk |
| Y15 | Gin Festival | Gin and Tonics | www.ginfestival.co.uk |
| C33 | Glass Memory Lockets | Personalisable Lockets | |
| X08 | Global Brands Ltd | Premium Alcohol & Soft Drinks | www.globalbrands.co.uk |
| W01 | Gourmet Foods | Gourmet Burgers & Sausages | |
| Y0 | Greens Hot Chocolate | Hot Chocolate & Brandy / Baileys | |
| C25 | GWYDR | Stained Glass Art | www.gwydr.com |
| H04 | Haava | Organic Bath & Beauty & Candles | |
| C29 | Handmade and More | Silver Jewellery, Scarves, Hats | |
| C02 | Hannalin Crafts | Pure Wool Products | |
| Y01 | Harrogate Lions Club | Mulled Wine | www.lions105c.org.uk/harrogate/site/ |
| M02 | Heart of England | Marble / Glass Tableware | www.heartofenglandpavilions.co.uk |
| S03 | Heatherhill Farm Meats | Hog Roast, Bacon, Sausage, Chips | www.heatherhillfarmmeats.co.uk |
| M18 | Hill-Top-House | Tweed Wreaths & Blankets | www.facebook.com/Hill-Top-House |
| F12 | Home Foods | Christmas Cakes and Loaf Cakes | www.homefoods.org.uk |
| P01 | House of Difference | Children's Wooden Jigsaws & Toys | www.hofd.co.uk |
| S07a | W & T J Howard | Lincolnshire Sausage | |
| S07b | W & T J Howard | Roast Pork | |
| Z05 | I Love Lucy Event Catering | Roast Chestnuts, Toffee Apples | |
| H12/H13 | In The Vintage Way | Vintage Retro & Recycled Clotes | www.inthevintageway.co.uk |
| Y02 | iBeani | Tablet Bean Bag Cushions | www.ibeani.co.uk |
| P20 | Impish Odes | Illustrated Verse | www.impishodes.co.uk |
| C31 | InFrame | Pin-Boards, Framed Pictures | www.pictureframingharrogate.co.uk |
| X09 | Inspired Glassware | Stained Glass Vases | |
| C22 | Jacquelyn Denise | Hand Made Gifts & Home Essentials | www.jacquelyndenise.com |
| Z03 | Jameson Family Catering | Hot & Cold food/drink & sweets | |
| Q05 | Jane Elizabeth Confectionary | Confectionary | |
| P06 | Jaynie Renner | Silk Devore Scarves & Fur Hats | |
| P13 | Jenny Bell Ceramics | Hand Painted Ceramic Gifts | www.jennybell.co.uk |
| M15 | Jewellery Nights | Costume Jewellery & Accessories | www.jewellerynights.co.uk |
| C09 | Jofli Bear | Jofli Bears and accessories | www.jofli.com |
| X02 | Jormaepourri Ltd | Dried Fruit Decorations | www.jormaepourri.co.uk |
| C16 | June Onigbanjo | Knit Patterns, Garments & Gifts | www.juneonigbanjo.co.uk |
| R07/08 | Just Baskets | Basketware & Handcarved Wood | |
| X05 | Just So Interiors | Home Accessories | www.justsointeriors.co.uk |
| Y03 | Karen's Decs | Christmas Decorations | |
| C37 | Kidzplay | Party Bags for Kids | www.kidzplay.co.uk |
| S06 | La Maison du Café Ltd | Speciality Coffee & Cakes | www.lamaisonducafe.co.uk |
| C30 | Leaf Jewellery Sales | Jewellery made from real leaves | |
| K02 | Lilly's Homemade Macaroons & Artisan Chocolate | Macaroons, Chocolate, Confection | |
| Q03 | Little Fingy Ltd | Hand knitted finger puppets | www.littlefingy.com |
| M20 | Lincolnshire Poacher Cheese | Artisan Cheeses | www.lincolnshirepoachercheese.com |
| C43 | Little Dandies | Baby Clothes, Kidswear, Interior | www.littledandies.co.uk |
| C04 | Louis Edwards Coin Jewellery | Coin and Cutlery Gifts | www.louis-edwards.co.uk |
| S04 | Luv La Crepe | Fresh Crepes Sweet & Savoury | www.vintagecitroenevents.co.uk |
| M11 | Lymn Bank Farm Cheese | Cheese & Chutney | www.postacheese.com |
| Y16 | Lyndon James Home & Garden | Toys, Xmas Decorations & Gifts | www.lyndonjames.co.uk |
| P11 | Made With a Smile | Soy Wax Melts – Button Crafts | www.madewithasmile.co.uk |
| H09 | Magnetic Health Care | Magnetic Health Care | www.magnetichealthcare.com |
| F01+ | Marks & Spencer Simply Food | Hot Drinks, Snacks & Treats | |
| H10 | Massagical | Handmade Skincare Products | www.massagical.co.uk |
| Y14 | MC Fashion & Accessories | Luxury Winterwear | www.mcfashion.co.uk |
| C45 | Mellow Treats – The Bathing Boutique | Luxury Bathing Prodoucts | www.mellowtreats.co.uk |
| C39 | Middleton Marketing Ltd | Pop Up Cards | www.middletonmarketing.co.uk |
| C08 | Minimalist Me Designs | Handmade Cards & Jewellery | www.minimalistmedesigns.etsy.com |
| C26 | Moongazer Cards | Greetings Cards, Prints, Books | www.moongazercards.com |
| Y10 | Mr Pitchfork's Pickles | Chutneys, Jams, Oils & Sauces | www.mrpitchforkspickles.co.uk |
| C11 | My Adventure Kit | Adventure Den Building Kits | www.myadventurekit.co.uk |
| T03 | Neat Necks | Leather Goods – Bags Purses Belts | |
| F13 | Nibble Nose Cheese Company | Cheese & Chutney | www.nibblenose.co.uk |
| M12 | The Nostalgia Shop | Vintage Original Adverts | www.thenostalgiashop.co.uk |
| L11 | Not Just Flowers | Xmas Décor Gifts Bathbombs | www.notjustflowersyorkshire.co.uk |
| H05 | Nu Skin Enterprises | Wellness Anti Ageing Health | www.nuskin.com |
| R12 | The Old Victorian Kitchen | Home grown, home made preserves | www.theoldvictoriankitchen.co.uk |
| P04 | P & C Rothwell | Wool Throws & Scarves | |
| C46 | Paint Pot Crafts | Handpainted Chalkboards & Signs | |
| V03 | Parker & Frenchie | Dog Christmas Lifestyle | www.parkerandfrenchie.co.uk |
| C01 | Peregrine Pewter | Pewter Tankards and Flasks | |
| Y08 | Personitas | Children's Personalised Gifts | www.personitas.co.uk |
| S05 | The Pickled Porker | Food and Drink and Gifts | www.thepickledporker.co.uk |
| R05 | The Proof of the Pudding | Genuinely Homemade Puddings | www.theproofofthepudding.co.uk |
| Y18 | Rafi's Spicebox Ltd | Handmade Curry Packs | www.spicebox.co.uk |
| Y09 | Raisthorpe Manor Fine Foods | Fruit Flavoured Gins & Liqueurs | www.raisthorpemanor.com |
| Y05 | Raydale Preserves | Preserves | www.raydalepreserves.co.uk |
| C15 | Reclaimed Products – Love Wood | Homemade Reclaimed Wooden Gifts | www.reclaimedwoodenproducts.co.uk |
| M13/M14 | Ridgeway Leather | Leather and Sheepskin | www.ridgewayleather.com |
| Z04 | Santa's Grotto & Reindeer | | |
| L01 | The Rocking Horse | Toys | www.harrogatetoyshop.com |
| F05/F06 | Rose Cottage Foods Ltd | Speciality Pork Pies & Savouries | www.rosecottagepantry.co.uk |
| R10 | RSPB | Christmas Range | www.rspb.org.uk |
| P15/P16 | Ryan Jepson Cheeses | Cheese, Biscuits, Cakes, Butter | |
| C32 | Samantha Grig | Hand Knitted Accessories | www.samanthagrig.co.uk |
| L07 | SK Biscuits | Biscuits, Meringues, Hampers | www.sawleykitchen.co.uk |
| C48 | SciArtImages | Microscope Photograph Gifts | www.sciartimages.co.uk |
| L08 | The Serious Sweet Company Ltd | Fudge, Coconut Ice, Honeycomb | www.SeriousSweets.co.uk |
| P05 | Shirecraft Designs | Wooden Home / Christmas Products | www.shirecraftdesigns.com |
| L04 | Shorrock's Cheese | Lancashire Cheese Bombs | www.lancashirecheesebombs.co.uk |
| L10 | Silver Del Sol | Sterling Silver Jewellery | www.silverdelsol.com |
| W04 | Simply Duck | Crispy Duck Wraps | www.simply-strawberries.co.uk |
| P08 | Sloemotion Limited | Hedgerow Fruit Liqueurs | www.sloemotion.com |
| Q06 | Smart Coffee | Coffee, Hot Chocolate, Tea | www.facebook.com/smartmobilecoffee |
| H11 | The Soap Deli | Handmade Natural Skincare | www.the-soapdeli.co.uk |
| H07 | Spartisan Ltd | Natural Soaps made with Beer | www.spartisan.co.uk |
| C24 | Spatchcock & Wurzill | Handmade Musical Instruments | www.spatchcockandwurzill.com |
| M08 | Special Expressions Ltd | Ear Spirals, Designer Jewellery | www.specialexpressions.co.uk |
| F09 | Spinney Kitchen | Leaf Tea & Coffee Beans | www.spinneykitchen.co.uk |
| T05 | Steve Antoniou | Hats Trapper/Ladies/Scarf sets | www.stevehatsboxers.weebly.com |
| C21 | Suncatchers by Connie | Peelable Window Decals | www.suncatchersbyconnie.com |
| L02/L03 | Sweets Of Yesteryear | Sweets, Cookies, Muffins, Candy | |
| F08 | Tarte and Berry | Brownies, Bakewells, Tray-bakes | www.tarteandberry.com |
| W05 | TastyBirds | Rotisserie Chicken | www.tastybirds.net |
| V02 | Thomas of York Ltd | Bakery Products | www.thomasthebaker.co.uk |
| T04 | Tin Can Models | Unique Handmade Recycled Models | www.tincanmodels.com |
| T01 | Travellers Finds Ltd | Wooden Gifts & Sculptures | www.travellersfinds.co.uk |
| C20 | Tweedy Gromett | Tweed Waistcoats | www.tweedygromett.com |
| C23 | Uniquely Bling | Jewellery, Silk Gift Bags | www.uniquelybling.co.uk |
| X04 | Ushiwear | Premium Brand Clothing | www.ushiwear.co.uk |
| P09 | Vericrafti | Handknits, Jewellery & Scarves | www.vericrafti.co.uk |
| Y12 | Vines Mulled Wine | Hot Mulled Wine & Cider | www.vines-winebar.co.uk |
| P02 | VIVE | Photographs | www.vivephoto.co.uk |
| X10 | Walter Cuba | Make Your Own Snow | |
| T02 | Westmorland Sheepskins | Fine Leather and Sheepskins | www.westmorlandsheepskins.co.uk |
| C28 | The Wood 'N' Menagerie | Wooden Toys and Ornaments | http://thewoodnmenagerie.webs.com |
| C34 | The Wooden Toybox | MDF Shapes & Letters | |
| M03/04 | Woolyknit | British Wool Knitwear | www.woolyknit.com |
| Z01 | Yorkshire Business Market Ltd | Information Chalet | www.harrogatechristmasmarket.org |
| S01 | Yorkshire Hot Dog Company | Hot Dogs | www.yorkshirehotdogs.co.uk |
| C19 | Yorkshire Trails | Treasure Trails | www.yorkshiretrails.co.uk |
| C12 | ZiZi Dragon | Crystals, Crystal Jewellery | www.zizidragon.co.uk |