Over 500 teenagers from the Army Foundation College marched on their way to a new career when they graduated from the successful military training establishment in Harrogate, North Yorkshire on Thursday (25 February 2016).
The college in Penny Pot Lane, Harrogate runs two types of course – a 42-week long course and a shorter 22-week course to train 16-17 year olds for a wide variety of Army careers.
The Junior soldiers on the longer 42-week course marched off the square to the second phase of their training in the Infantry, Royal Artillery and Royal Armoured Corps.
Two companies of Junior Soldiers on the shorter 22-week course designed for other cap badges will head for the longer more specialist phase of their training which could be anything from being a vehicle mechanic with the Royal Electrical and Mechanical Engineer to becoming a communications systems operator with the Royal Signals.
The courses both provide a unique combination of military basic training and vocational training to the Junior Soldiers. The graduation parade at Uniacke Barracks was the finale and thousands of relatives and friends watched the Junior Soldiers pass off the square.
The Junior Soldiers of Burma and Alamein companies who have undertaken the 22-week course have had the opportunity to gain Non-Vocational Qualifications in English, Maths and ICT as well as driver theory training.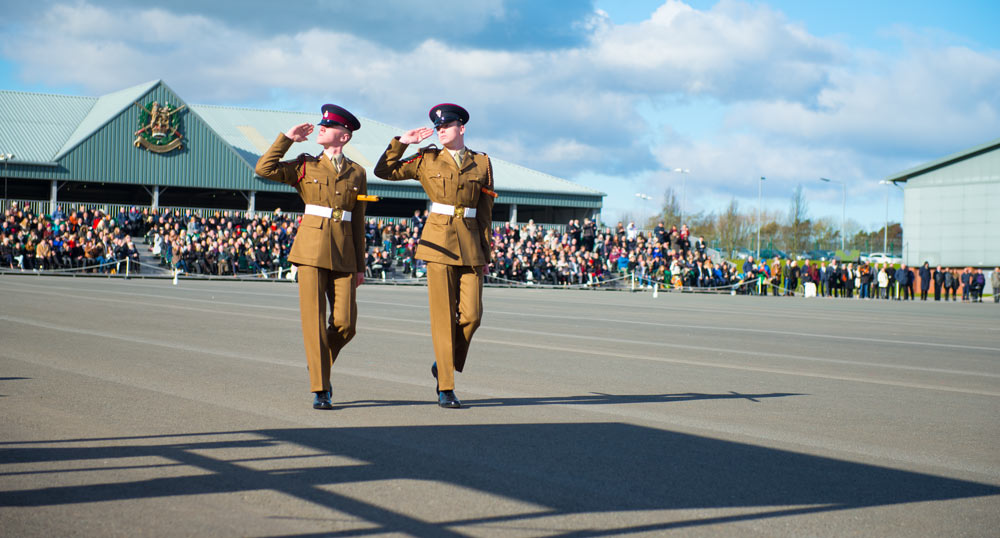 While the Junior Soldiers from Waterloo Company who have undertaken the longer course have had the opportunity to achieve a City and Guilds apprenticeship for Information Technology users at Level 2, incorporating Functional Skills. Many have also achieved a Duke of Edinburgh award.
Lieutenant Colonel William Strickland, the College's Commanding Officer, said:

The graduation parade is the culmination of months of hard work and dedication both by the junior soldiers and the college staff that train them.

The Junior Soldiers can justly be proud of their achievements at the College, and the staff and I wish them well as they go forward to the second phase of their training at different establishments throughout the country.
Lieutenant General James Bashall CBE, Commander of the Army's Personnel and Support Command, inspected the Junior Soldiers, presented prizes and took the salute as the military parade marched past the dais.
Junior Soldiers work on their leadership and team skills as part of the College's personal and team development package.  They have undertaken a number of adventurous training activities, as well as physical and mental challenges, culminating in a 30-hour challenge patrol across the Yorkshire Dales.  The students have also had the opportunity to sample a wide variety of sports promoting fitness and agility.
Many have just returned from their final exercise in Scotland – an arduous exercise and the culmination of their fieldcraft and military skills training.
The college opened in 1998 and accommodates 1344 Junior Soldiers.