Saint John Fisher pupil, Eden-Maia Takhar represented England in the British Young Dressage Riders (Under 25's) Home Internationals at the end of July. She helped the team win the competition and at the tender age of 12, this is a fantastic achievement.
Although she is currently training her pony, Gwyllan Sebastian, in the art of dressage, she is competing on Don Valentino, a pony owned by fellow dressage rider, Lauren Harper. Don Valentino is a big step up in class for Eden-Maia but her hard work and determination are paying dividends with success in the Elementary/Medium Level of dressage. Eden-Maia has to endure early starts in the morning to look after her ponies before heading off to school. Every night she trains hard for the competitions at the weekends.
Although the hard work can be tiring, especially on top of her school studies, she is inspired by her heroes to succeed. At the Dressage National Championships Eden-Maia was delighted to meet Charlotte Dujardin, an Olympic Gold Medallist and Debbie Criddle, a three time medallist at the 2012 London Paralympics, who instilled in her the desire to compete.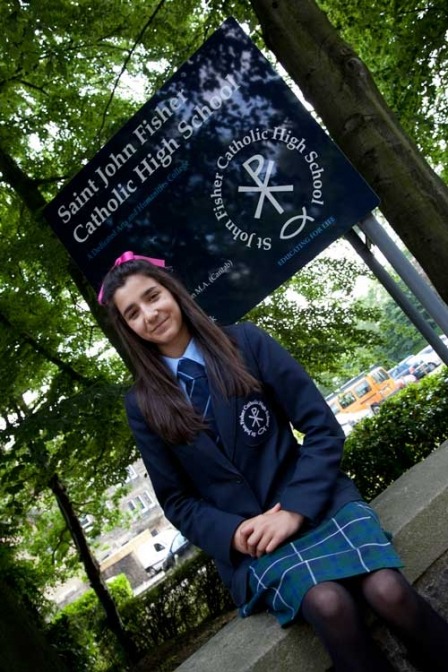 Now the Home Internationals are over she hopes to qualify for the prestigious 2013 Under 25's Dressage Championships in August. She also harbours ambitions of competing at Medium level by the end of this year, a big challenge for her age, ultimately representing Great Britain one day.
In the meantime Eden-Maia said:

I will try my best but I will be riding against the top riders in the country. It is an honour to ride for England and a great experience. I really appreciate the support, backing and promotion the staff and my friends at Saint John Fisher have given me.
Laurence Hughes of St John Fisher said:

It is wonderful to see Eden-Maia being so successful at Dressage. At SJF we encourage pupils to participate in a diverse range of sporting activities and Eden-Maia epitomises this ethos. We wish her all the success that her hard work and endeavour deserves.