Knaresborough-based brewery, Roosters, has teamed up with local tea and coffee merchant Taylors of Harrogate to produce a beer infused with tea.
The two family-owned businesses have joined forces to create Mad Hatter, a 6.2% limited edition Jasmine Green Tea India Pale Ale, which has also been brewed in collaboration with Melissa Cole, a prominent beer writer based in London.
Outlaw Brewing Co. was established in 1996 as a concept to run alongside Rooster's Brewing Co., with the emphasis on producing experimental and innovative beers on an ad hoc basis. Over the years a number of different beers have been brewed using new and rare hops, adjunct flavours and experimentation with barrel-ageing (amongst other things).
After a few years of inactivity and under the new ownership of Ian, Tom and Oliver Fozard, Outlaw is set to make a return with a beer that includes a tea that has been especially selected with the guidance of Ian Brabbin, Taylors' Head of Tea.
Tom Fozard, Rooster's, Commercial Manager said:

Over the past year, plenty of customers and brewers alike have been asking us about the return of Outlaw. It's a brand that is synonymous with experimenting with all kinds of beer styles and flavours and it's good to have it back!
Head Brewer, Oliver Fozard added:

We're delighted to have been able to work alongside the team at Taylors. It's been both a fun and enlightening project to have worked on.

There are a lot of similarities between the approach and hard work that we undertake to produce our clean tasting, flavour and aromatic beers and the range of top quality teas and coffees produced by Taylors.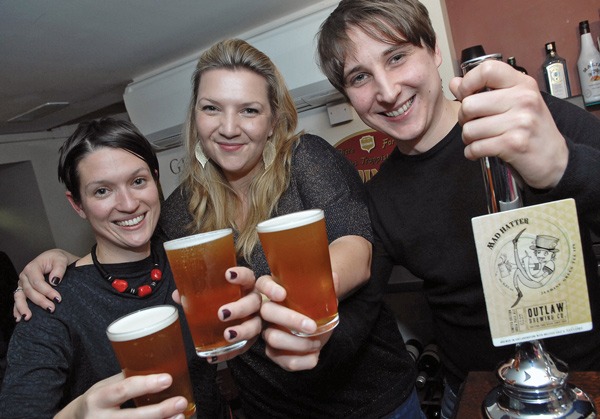 Ian Brabbin said:

I have really enjoyed working with Tom & Oliver on the creation of this new beer. We tasted different teas together in our tasting room in Harrogate and selected a high quality Chinese Jasmine Leaf tea for Mad Hatter. All of our tea tasters visited the Brewery to see first-hand the fascinating art of the brewing process.

Our companies have many things in common, as we are local family businesses who pride ourselves in producing the very best tasting brews for our customers, using the finest ingredients and taking into account different waters too.
The new branding for Outlaw has been created by The Lift Agency; a Harrogate-based design company who also worked on the rebranding of Rooster's earlier this year, whilst the artwork for the Mad Hatter pump clip is the work of Tom Cutting, a local designer and friend of the Brewery. Each new, limited edition Outlaw beer brewed in future will also sport a new piece of artwork that will have been especially commissioned for the beer in question, with plans for more one-off beers to be brewed in 2013 and beyond.
Both Ian and Melissa have worked closely with the Outlaw team to create a recipe and brew a beer that is limited to just 75 casks and is likely to turn a few heads. Mad Hatter will be available to pubs from the beginning of December.