Pupils at an independent prep school on the outskirts of Harrogate learnt some footballing – and reading skills – when author Tom Palmer dropped into their school.
The Leeds-born writer of popular stories including The Squad, Foul Play and the Football Academy spent a day with pupils at co-educational prep school Belmont Grosvenor.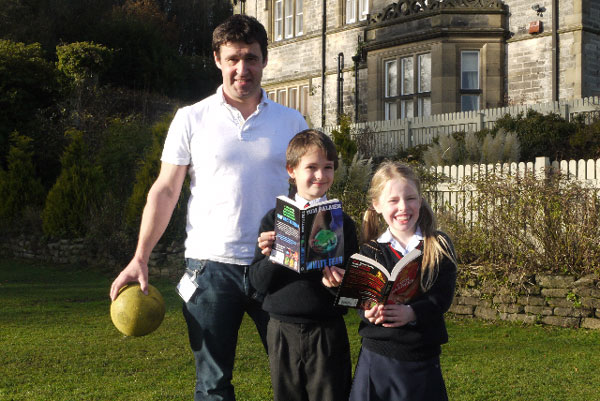 As well as sharing his popular football stories with pupils from Reception to Year 6, the author unveiled an unusual way of encouraging children to read – by letting them take part in a penalty shoot out!
It was through football that Tom's love of reading began.
Mr Palmer told pupils:

I wasn't keen on reading when I was young. My mum was worried about me because I didn't do very well at school. She encouraged me to read about football in newspapers, magazines and books. Gradually I came to love books.
Belmont Grosvenor School, based at Swarcliffe Hall, Birstwith, near Harrogate, and its Magic Tree Nursery, caters for children from three months to 11 years.
Mr Palmer encouraged pupils to try out all different types of reading material if books didn't appeal.
Mr Palmer added:

'I just want to get children talking about what they like to read in front of each other.

It's not always books, it can be magazines and newspapers too – there is a whole breadth of reading material out there to encourage children.
Sophie Johnston, Head of English at Belmont Grosvenor School, said Mr Palmer's visit had been inspirational for the children – who had all loved reading his books, and taking part in the penalty shoot out!
Sophie Johnston said:

Tom Palmer was an absolute pleasure to have at BGS. He really engaged with the children by involving all of them in a quiz about football and the different medias of writing before they took part in a penalty shoot out to win a trophy.

What stood Tom apart was his experience of not enjoying reading as a child, how he grew to love it before eventually becoming an author.  He showed the children there are many different medias out there and that any reading is good.