A PAIR of North Yorkshire teenagers who met at prep school set off later this month on a 6,000-mile cycle ride to raise money for charity.
Joshua Fuller, 19, and his friend Toby Hanson, 18, are busy training for their trip-of-a-lifetime – cycling from Buenos Aires in Argentina to Cusco in Peru.
Their epic journey will see the pair ride through Chile and Bolivia, climbing a 19-mile glacier and traversing the highest commercially navigable lake in the world, Lake Titicaca, which is 3,811m above sea level.
At the end of their trip, which they expect will take about four months, the duo hope to have raised thousands of pounds for their two chosen charities – Ouch UK and Spinal Research.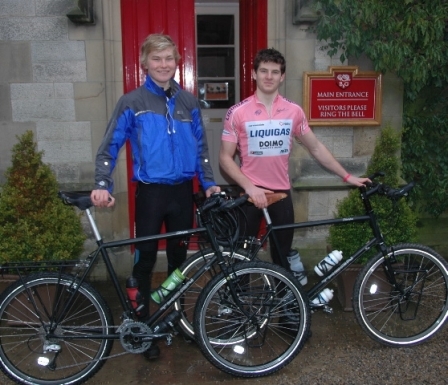 "We are feeling really excited about the trip and we are getting in as much training as we possibly can at the moment," said Joshua, who lives in Killinghall, near Harrogate.
"We are both in our gap years after leaving school and wanted to do something different, and raise money for a good cause as well.
"We are funding the trip to South America ourselves, so every pound we raise will go to our chosen charities," he said.
Joshua and Toby, who lives in Hampsthwaite, met when they were both pupils at independent prep school Belmont Grosvenor, based at Swarcliffe Hall, Birstwith.
Joshua is currently back at the co-educational school helping out the PE department to raise money for his trip.
Jane Merriman, Headteacher at Belmont Grosvenor School, said the whole school wished the boys luck in their fund-raising adventure – and planned to follow their adventure every step of the way.
"This cycle ride is a wonderful experience for  Josh and Toby to be undertaking; but what really makes the adventure special is the motivating factor of raising money for two very worthwhile charities.
"Part of the ethos at Belmont Grosvenor School is promoting the importance of thinking of others and what we can do to help them, so to hear this story makes us all feel extremely proud of our old boys," she said.
The boys have invested in top-of-the-range steel-framed endurance bikes, and will be packing their panniers with an enormous array of essential items to last them the 120-days of their journey.
Top of the list is their tent, as well as two sets of tyres, puncture repair kits, maps and waterproof clothing – as well as some earplugs!
'For Toby's snoring," laughed Joshua.
Toby has been a keen cyclist for many years – and has already completed a road trip from Land's End to John O' Groats – but South America is his biggest challenge to date.
The pair set off from the UK on March 23 and hope to cycle between 60 and 70 miles a day, expecting to get back home in July.
Anyone wanting to sponsor the pair – or find out more about their South American adventure can visit their website at: https://sites.google.com/site/cyclesouthamerica2011/ or http://www.justgiving.com/Joshua-fuller