The Knaresborough Lions have made awards from this year's Community Fund to 22 community groups and charities in the Knaresborough and Nidderdale area. A total of £20937, raised through the Bed Race, FEVA Beer Festival, Santa's sleigh collections and other fund-raising activities, has been given in donations, or in some cases offered as a pledge towards a larger project.
Many of these donations will help to support those in particular need in our area. Funds have been given to help Carers' Resource to arrange a day trip for young carers, and to enable Harrogate District Older People's Forum to provide coach hire for a day trip. Harrogate Skills for Living received a grant for new pathways, growing beds and tools at the Knaresborough allotments, to improve access for people with disabilities. The Harrogate Easier Living Project (HELP), which supports independent living for older and vulnerable people across the Harrogate District, has been given the cost of a new brush cutter for its volunteers to use when tidying people's gardens.
King James School has received funding for equine-related therapy sessions for students with special needs, while St Michael's Hospice was given a donation to support one-to-one counselling sessions in Knaresborough.
Several local sports clubs have benefited this year, with grants for safety lighting for Knaresborough Bowling Club and a grass mower for Knaresborough Cricket Club, as well as contributions towards several larger projects: a new pavilion roof for Knaresborough Forest Cricket Club; refurbishment of the seating area at Knaresborough Town Football Club; and the creation of equipment storage facilities for Scotton Scorchers.
Both Knaresborough in Bloom and Pateley in Bloom received funding for planters and other costs, and a grant was given towards creating updated publicity materials about Knaresborough's much-admired trompe l'oeil window and wall paintings. A pledge was made to contribute towards a new history and wildlife interpretation board for which the Friends of Jacob Smith Park are currently raising funds.
The Harrogate and Knaresborough Toy Library, which recently relocated to the Old School in Knaresborough, has been given funding to add a range of outdoor toys to their collection, while Knaresborough and Pateley Bridge Libraries each received a grant to cover costs of children's activities for the coming year. Donations from the Community.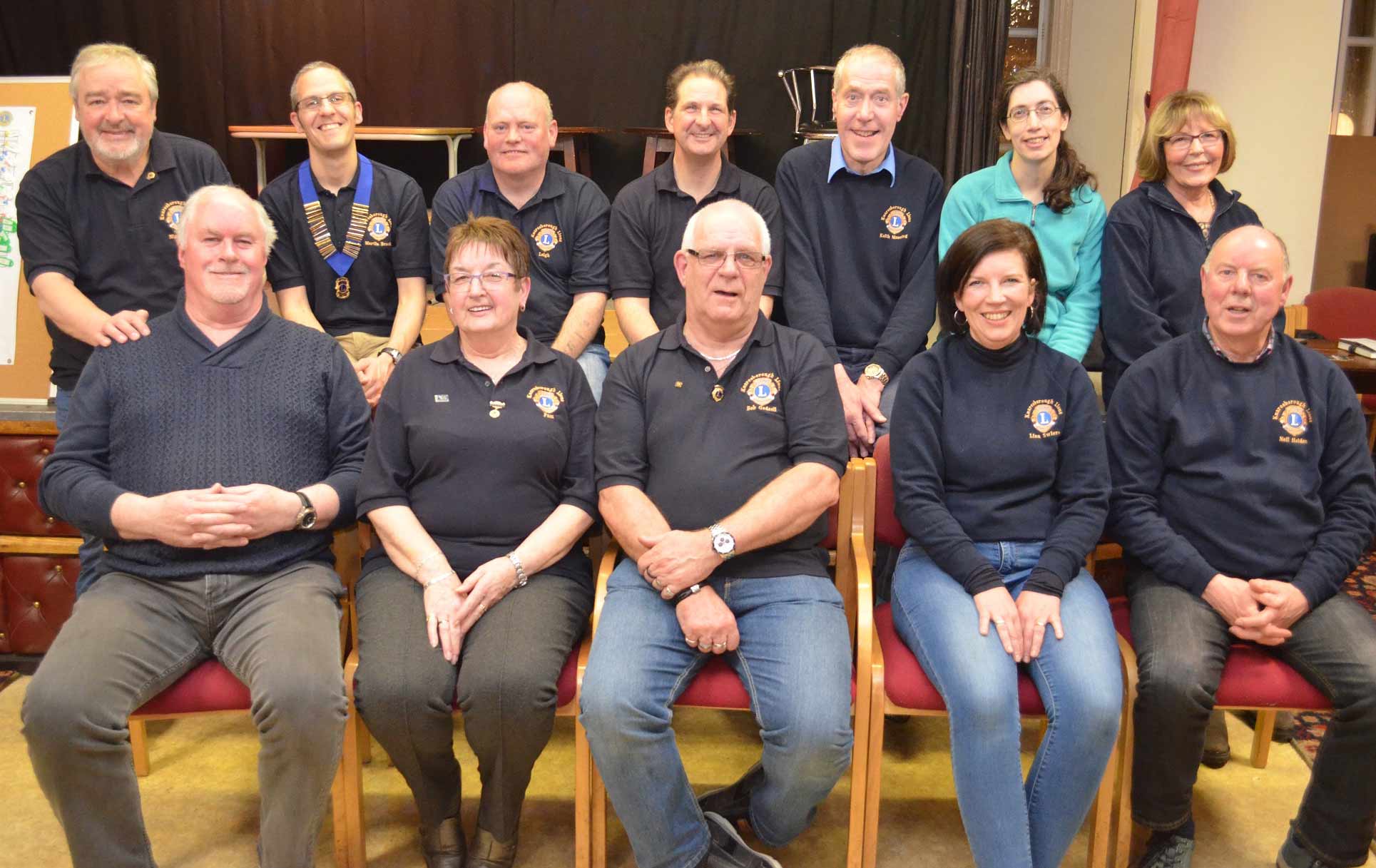 Fund will also allow the Blind Jack Explorer Scouts to purchase new tents and the Knaresborough Air Cadets to buy equipment.
Knaresborough Silver Band have been given the funds needed to produce their first music recording and distribute it free of charge to local residents who are visually impaired or are unable to come to concerts.
And finally, a couple of less obvious but nonetheless important infrastructure needs have been supported, with grants towards a new boiler for Chain Lane Community Hub and a replacement service counter for Henshaws Arts and Crafts.
While the Community Fund is a particular focus for formally constituted groups wishing to apply for funding for specific projects, the Knaresborough Lions are open to requests from groups and individuals throughout the year. Donations made outside the Community Fund so far this year include: a contribution to Knaresborough's new painted window depicting St Robert; financial help for students of Forest School to travel to a swimming competition, and for students of St Cuthbert's School in Pateley Bridge to visit an activity centre; a contribution towards setting up a 'quiet room' for Aspin School; the cost of a defibrillator for Pateley Bridge; and a donation towards a new boiler for Orb Community Arts. In addition, the Lions have continued to liaise with local social services to support low-income families with particular needs.
The President of the Knaresborough Lions, Bob Godsell, said of this year's Community Fund:

Knaresborough and Nidderdale benefit tremendously from the efforts of so many community groups in our area, including charities, community hubs and sports clubs. The Knaresborough Lions are delighted to be able to help some of these groups to fund their infrastructure, equipment and activities.

We would like to thank everyone who has contributed to our charity fund, whether by putting some change into Santa's collecting tin, buying a Bed Race programme, entering a bed in the race, acting as a sponsor, or buying beer at the Beer Festival!

We are always happy to welcome new members to the Knaresborough Lions, whether you can contribute a little or a lot to our fund-raising activities and community work. If you would like to find out more about us, please get in touch via our website.
The Knaresborough Lions website is at http://knaresborough.co.uk/lions-club/