Elderly care company, Hadrian Healthcare, is investing over £12 million in the future of luxury accommodation with a new build development on Cornwall Road in Harrogate.
Hadrian Healthcare is a family-run firm, under the guardianship of owner and Chairman Ian Watson. He has an track record in elderly care, having built the company up twice after acquisition.
The site on Cornwall Road was previously occupied by The Alexander Court Care Home, that closed in 2014 after problems at the care home see Alexander Court Care Home To Close
Hadrian Healthcare sold five of its care homes and two development sites to Bupa last year for £50 million and has since concentrated on the high-end luxury market via its 'Manor House' homes.
Now work has begun on its latest site in Harrogate with its 'five star' accommodation having 86 bedrooms/suites, including a separate area "Chester's" specially designed to provide a luxurious, safe and stimulating environment for people with dementia.
The Manor House is expected to open in early 2018 when up to 100 permanent jobs will be created.
Ian believes the success of the company is very much down to the ethos of focusing on 'individualised care' – in other words – providing what residents and their families want without cutting corners or compromising on quality.
Ian said: We look for sites that reflect what we offer just by their location, so it's no accident that this is a premier position in Harrogate with beautifully-landscaped gardens, close to amenities and shops.

As well as spacious suites with private bathrooms, residents will be able to have beauty treatments and their hair done in our beauty salon, or visit the wellness cottage and enjoy the hydrotherapy pool. As well as our restaurant and bistro, we will have a luxury "Betty's"-style tearoom where people can catch up with friends and relatives.

Internet access and library areas will be available for people to keep in touch with what's going on in the world and there will be an old-fashioned sweet shop and retail area selling greetings cards and everyday items which residents might need.

And, for when residents want to get out and about, The Manor House will have a concierge service within the home and a chauffeur to take them into town in style.

It almost seems to be underselling what's on offer to mention 'bedrooms' when what we are actually providing is an exclusive quality of life for elderly people who can no longer live by themselves – but want to maintain their lifestyle, individuality and dignity.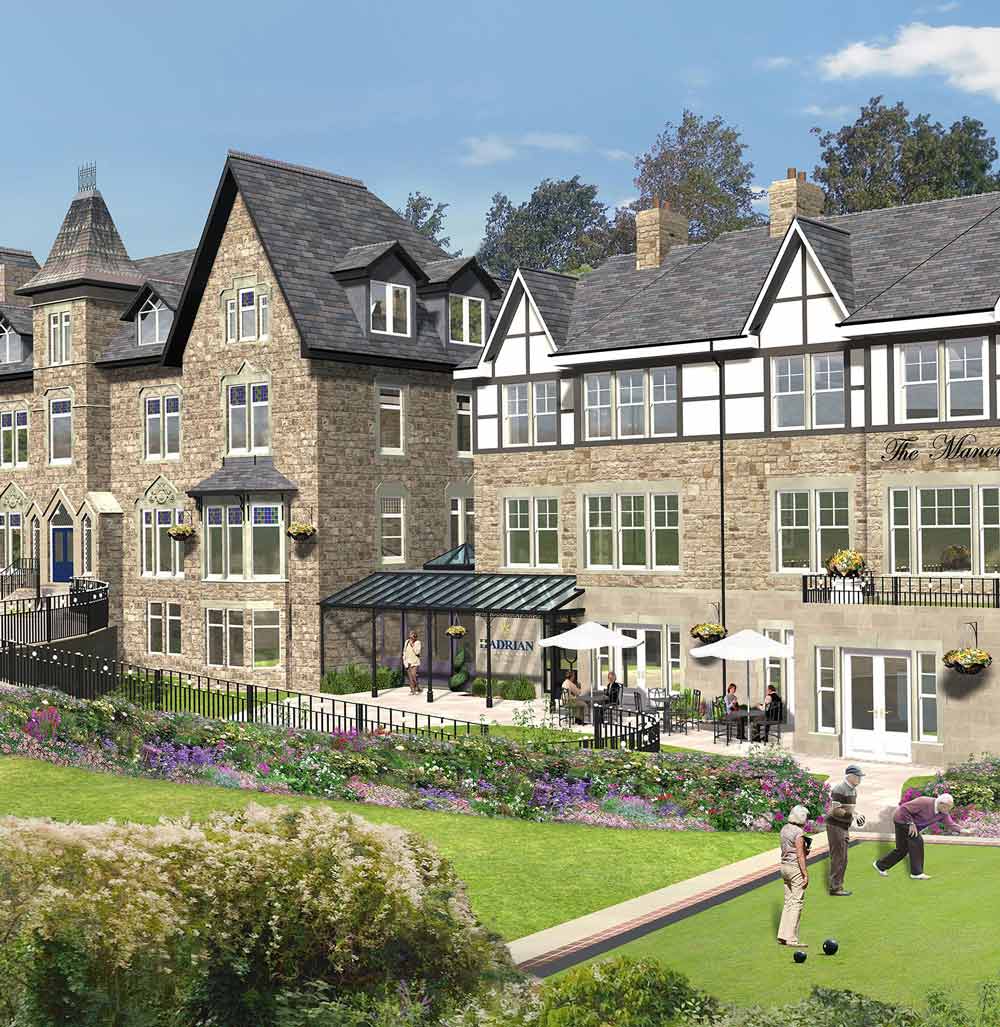 The Manor House will also offer respite care for those who need a short break away from their home for whatever reason, for example, convalescence after hospital treatment.
Hadrian Healthcare already owns and runs luxury elderly care homes in Wetherby, Knaresborough and Leeds in North Yorkshire and Barnard Castle, Gosforth and Whickham in the North East where the firm's HQ is based.