A Harrogate physiotherapist has developed a breakthrough new product for use in the treatment of lower back pain.
Chris Aldred has spent more than a decade refining the Pelvipro, a portable ball-and-lever device that allows sufferers to take control of their pain management wherever they are.
Three years ago, Chris joined with former Yorkshire professional cricketer turned business adviser and mentor Peter Whiteley to take the development of the Pelvipro into its final stages. They worked with design experts at York St John University and businesses in Keighley and Skipton to bring the Pelvipro to market.
Now, following successful trials of the Pelvipro across Yorkshire and the North West, Chris and Peter are preparing for its official launch at the Yorkshire Business Market in Harrogate on Monday, April 24. Visitors to the event will be able to chat to them about back pain, have a diagnosis and try out the device for themselves.
Around a third of the adult population experiences lower back pain and, for 97 per cent of them, there is a musculoskeletal (MSK) cause.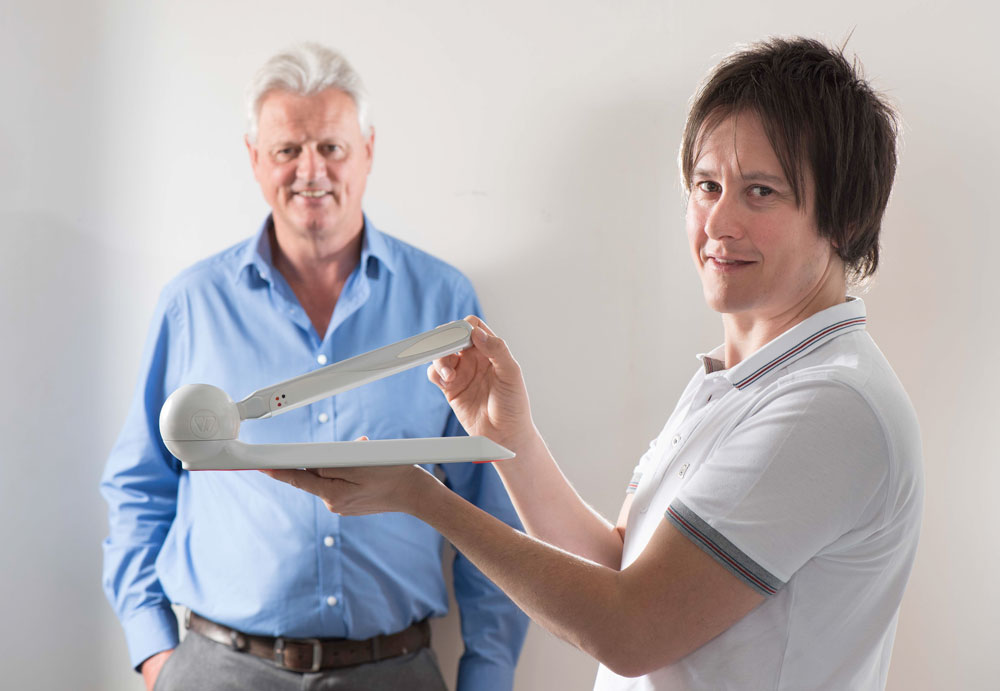 Chris, who specialises in MSK physiotherapy, has treated thousands of patients with lower back pain during his 17-year career. He was an integral part of a team who built orthopaedic and sports medicine centres across China, which involved the training of physiotherapists, physicians and surgeons in western methods of rehabilitation and treatment. He returned to his Harrogate roots in 2008 where opened and established a successful MSK clinic in the town, and this is where he continues to research and develop cutting edge, effective lower back treatments.
Chris said: Issues such as a misalignment of the pelvis and instability of the lumbo-pelvic-femoral system are the main causes of lower back pain. It can have a debilitating effect on a sufferer's everyday life. The Pelvipro realigns the pelvis which, in turn, realigns the spine and the hips. It also helps strengthen muscles and heal damaged tissue. All of this leads to a reduction or elimination of pain.

The Pelvipro is simple to use and safe so that patients are unable to damage themselves by using it incorrectly. They can build upon improvements made with their physio and take control of their pain whenever they need to.
Trials of the Pelvipro have been undertaken in Yorkshire and the North West among patients with varying degrees of lower back pain, from mild to chronic. The Pelvipro was shown to be 100 per cent effective in realigning the pelvis. Seventy-five per cent of patients said it instantly reduced their pain, while nearly a fifth of them said it had completely eliminated their pain.
Chris said: More than that, the trials also showed that the Pelvipro had a huge positive impact on patients' fear and stress about lower back pain. Sixty-one per cent said their level of fear about back pain had been reduced by more than half, and 71 per cent said the same about their level of stress.

That's because the Pelvipro gives people the empowering feeling of knowing they're in control of their pain.
Chris is encouraging back pain sufferers to use the device in sessions with specially-trained accredited physiotherapists. They then take it home to continue managing their pain outside of regular visits to the clinic. The Pelvipro is particularly useful when access to a physio is difficult or impossible, such as when on holiday or at work. Alternatively, back pain sufferers will be able to buy the Pelvipro through the website following an online consultation to ensure it is the right treatment for them.
Chris and Peter also plan to roll out the device to physios working in the corporate environment, as well as sports and fitness venues, yoga and pilates classes and, eventually, NHS sites.
Peter said: Chris told me about his ideas for the Pelvipro and, being a former professional sportsman, I immediately saw the benefits of using it to realign the pelvis as a warm-up routine in preparation for exercise. I have suffered with back pain and have used Pelvipro to get me back to doing what I need and want to do. It is so convenient that I've used it on a golf course and in a café, and other patients have taken it on holiday.

It creates the stability that allows you to build up muscle and heal tissue, making the body stronger and the pelvis less likely to misalign – meaning problems are reduced in the longer term.