The UK's most decorated female Paralympian in history met Yorkshire cycling fans today after taking to the Tour de Yorkshire route ahead of the race this weekend.
Stage 1 of the Tour de Yorkshire will pass through Wetherby – Knaresborough – Ripley – Pateley Bridge at around 2:20pm to 3:00pm on Friday, 29 April 2016 (see schedule below)
Dame Sarah Storey was doing a route reccy ahead of the Asda Women's Tour de Yorkshire Race on Saturday 30 April which will go from Otley  Sarah met residents and local school children from Monk Fryston C of E School over in Hillam where the village is decked out in bunting, bikes and banners ready for the race this weekend.
There were also children waving her on from South Milford Community Primary School in South Milford.
Dame Sarah then rode onto Doncaster and crossed the finish line close to the The Earl of Doncaster Hotel, Bennetthorpe, Doncaster.
The international cyclist has an incredible sporting history after winning 11 Gold, 8 Silver and 3 Bronze medals across an impressive 6 Paralympic Games.
Dame Sarah Storey, who will race with her Podium Ambition Pro Cycling Powered By Club La Santa team, said:

It was brilliant to spend today doing a thorough recon of the route for the Asda Women's Tour de Yorkshire race this weekend. Having ridden the event last year it is brilliant to see the race become a UCI registered race this year and be 136km in length with full TV coverage. I am excited to start my season here, I have chosen to wait until the middle of the spring because there is so much racing for me this year and I want to still be firing on all cylinders in the autumn when we hopefully will be in Rio and Qatar.
Barney Storey MBE manager of Team Storey Sport added:

Racing at home as a team is always fantastic and to have the support on the route that the riders will have on Saturday is going to make for a very special event. We have a strong team selected for the race and are also delighted to be fielding our development team who race for Boot Out Breast Cancer Cycling Club. These riders are snapping at the heels of the professional riders and eager to take a place alongside them for 2017, so I am looking forward to seeing them race each other!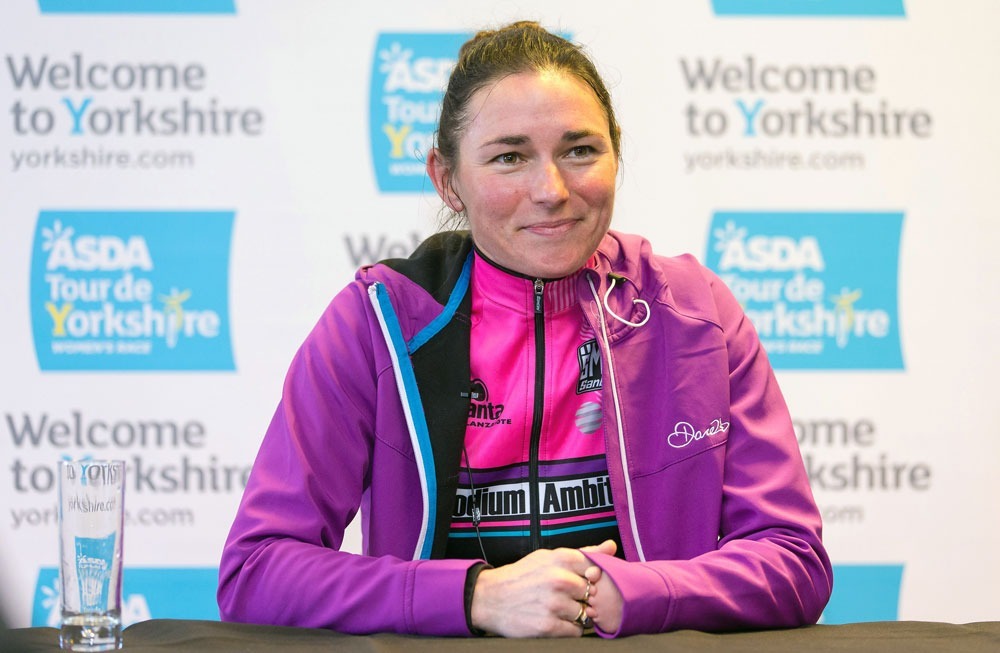 Sir Gary Verity, Chief Executive of Welcome to Yorkshire said:

We are delighted to welcome Dame Sarah back to Yorkshire once again. She is one of the greatest Paralympians of all time and having a cyclist of her calibre is what helps make the Asda Women's Tour de Yorkshire Race one of the best women's races there is.
Monk Fryston has joined forces with its neighbouring village of Hillam to put on a huge festival of cycling during the race. Monk Fryston Community Centre is hosting big screen coverage of the race, a beer festival, entertainment, live music and art installations. Monk Fryston C of E School has painted the 18 jerseys and will display them in the field opposite the school.
Bert's Barrow Farm Shop in Hillam will host a huge hog roast and live band on Friday after transforming its outhouse specifically for the Tour de Yorkshire. They have also turned their fields into a campsite for the weekend and created land art.
The competitive spirit of the weekend is also being embraced by South Milford's 2,000-plus residents, with a children's bike race in the park and duck races with 200 decorated yellow rubber ducks. First duck to the Swan pub will be crowned the winner and all money raised will be donated to the RNLI.
Parties in the village will include beer festivals at both the Queen O' T' Owd Thatch and the Swan pubs. The Swan will also have live music, food and a static bike simulator for all those Sir Bradley Wiggins wannabes.
These are just some of the hundreds of events sweeping the county as Yorkshire gets ready for the race.