Through an initiative similar to TV's 'The Choir', students from Aston Manor Academy and Queensbridge School have been working with Birmingham Conservatoire ahead of a performance in the capital, where they will showcase a new choral piece.
The pupils have been chosen for the project by their music teachers who think they have an aptitude and passion for all things musical. They will perform the new work alongside students and staff from Birmingham Conservatoire.
The students have enjoyed four one and a half hour extracurricular rehearsals with Birmingham Conservatoire in their respective schools this month. They only came together for the first time as the Birmingham Conservatoire Youth Vocal Ensemble on Tuesday 23 February – just two days before the debut public performance of the a cappella piece.
The vocal ensemble made a debut of the new work – titled 'In the Silence' – at Olympia London on Thursday 25 February as part of Music Education Expo, Europe's largest conference and exhibition for anyone involved in music education. Organised by Rhinegold Publishing, the event features over 60 seminars, workshops and debates – alongside over 130 exhibitors – across two days.
'In the Silence' – inspired by Christina Rossetti's poem 'Echo' – has been written especially for young people by sixth form Harrogate Ladies College student, Nicole Brocksom as part of a nationwide competition commissioned and selected by Music Education Expo. The judging panel featured Birmingham Conservatoire choral specialist and PhD student Daniel Galbreth, who will also conduct the choir's London performance.
Louise Greener, Music Education Expo Project Manager, said:

The Music Education Expo team are delighted by the partnership with the Birmingham Conservatoire Youth Vocal Ensemble for this year's event. Our brand new performance stage will showcase some wonderful young talent from across the UK and it is with great pleasure that we have joined forces with Birmingham Conservatoire to present the winning piece from our Composition Competition.

An original piece for soprano, alto and tenor voices was commissioned, with the Birmingham Conservatoire Youth Vocal Ensemble in mind, and we can't wait to hear the end result! Our winner, Nicole Brocksom – a sixth form student at Harrogate Ladies' College – will be there to collect her prize and hear the piece premièred.
Alongside 'In the Silence', the pupils will also perform 'Panda Chant' by Meredith Monk and Mark Ronson's 2014 hit single 'Uptown Funk'.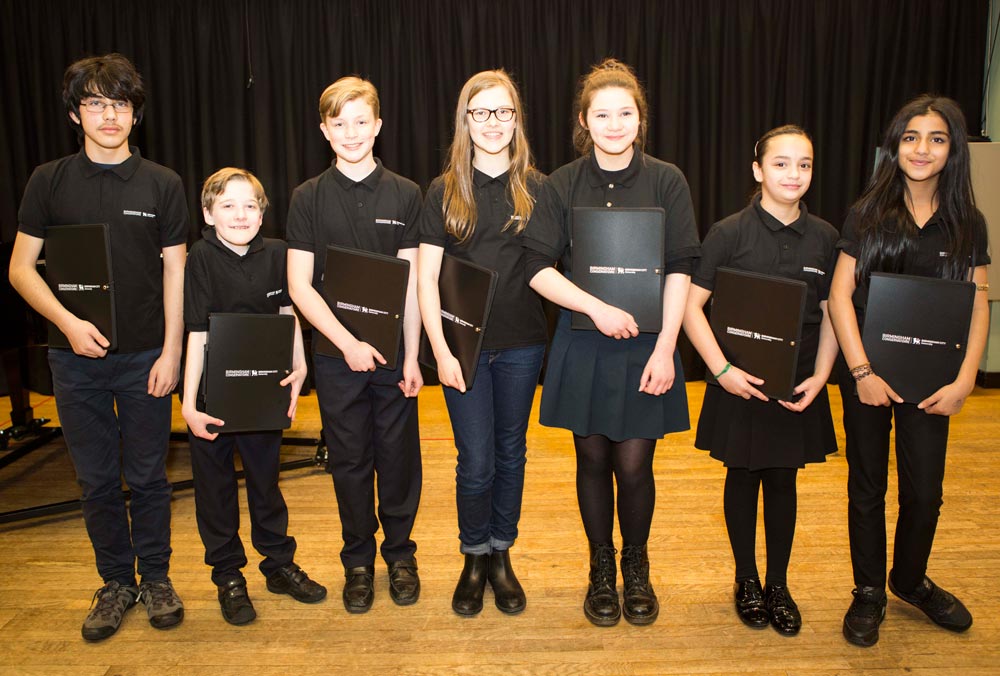 The students, aged between 11 and 16, will be introduced by Birmingham Conservatoire Principal, Professor Julian Lloyd Webber, who will also be addressing the Expo about his career and educational work earlier in the day.
Professor Julian Lloyd Webber, Principal, Birmingham Conservatoire said:

In such a short space of time, the Birmingham Conservatoire Youth Vocal Ensemble have put together a fantastic performance programme that will delight the Music Education Expo audience. All the pupils involved have brought endless amount of passion, enthusiasm and professionalism and they should all be very proud of their achievements.
Carol Davis from Harrogate Ladies College said:

We're all incredibly proud of Nicole and her composition is a very accomplished piece. Music plays a huge part in the life of our school, with more than 100 individual music lessons taking place each week in a wide range of instruments as well as singing.
The community vocal project forms part of the Conservatoire's wider Learning and Participation programme, which aims to engage talented young musicians from diverse backgrounds in high quality musical experiences. The programme sees the Conservatoire work with schools, charities and arts organisations, both locally and nationally.