Parallel is a dark comedy drama which aims to challenge our understanding of home, purpose and charity. The play has been developed with Crisis (the national charity for single homeless people) and Harrogate Homeless Project.
Anna is stranded. Beth came for a think. C just wants some kip. Three women meet by chance late at night. None of them really want to be there, yet none of them leave. It is a rare moment of stillness in a hectic modern world, bringing both solace and discomfort. With only loose change, some booze and a dodgy carrot at their disposal, will any of them find their way home?
One of the most innovative aspects of Parallel is that the part each actor plays each night is determined by a dice roll.
Laura said:

The dice roll explores the impact of chance on the outcome of our lives and illustrates that homelessness really can happen to anyone.

But the point is, we should care that it happens to anyone, not just that it could be us, or someone like us.
The play's writer and producer, Laura Lindsay, has conducted weeks of research with both charities including interviewing staff and service users, and attending participation sessions. Laura hopes the play will help to raise awareness, understanding and funds for the homeless.
Laura said:

I have always felt wholeheartedly moved yet utterly powerless about the homeless situation in the UK. I wanted to tell the human stories behind the ubiquitous and anonymous presence on the streets (and the hidden homeless we don't see) in the hope of raising awareness and empathy.

I also hope Parallel will contribute to much needed social change in housing policy and provision in this country.

Kellie Gamble, Arts Coordinator at Crisis, said:

Laura has struck the difficult balance between authenticity and dramatic reality to create a frank yet humorous portrayal of a range of salient issues linked to homelessness without being tokenistic or patronising. The play feels extremely current as a comment on the socio-economic landscape and the extent of the housing crisis; but it is also highly engaging and entertaining, which is testament to the quality of Laura's writing.
There will be collections for Harrogate Homeless Project after each performance and information about their work will be on display in the theatre foyer.
A private performance is being put on for HHP staff, residents and associates, where they will be invited to give feedback on the piece. Laura is also running a workshop for the residents of the hostel and users of HHP day centre, Springboard, to help build their confidence and communication skills.
The Chief Executive of HHP, Liz Hancock, said:

We are really pleased to have collaborated on this play.

It sensitively captures the difficulties of modern life and the challenges people face, which can very easily lead to homelessness.

We are delighted Black Toffee are using Parallel to raise awareness and funds for those in need, as well as to promote our work throughout the district.

Harrogate Homeless Project will be marking its 25th anniversary this year, so this is a very timely tribute.
Parallel stars Arabella Gibbins (The Canterbury Tales, Watford Palace Theatre; The City A Short While Ago, Arcola Theatre), Seda Yildiz (Bad Dates, Channel 4/Rumpus Media; Fret, National Theatre) and also the writer, Laura Lindsay (who has recently just finished a production of Partus at The Crucible, Sheffield).
The play is directed by James Baker, who is a prolific and well-respected director in the Manchester independent theatre scene (Little Shop of Horrors, Spring Awakening and The Last Five Years). James and Laura have worked together on several previous productions, including most recently The Rise and Fall of Little Voice (The King's Arms, Salford), which has been nominated for Best Fringe Production at this year's Manchester Theatre Awards.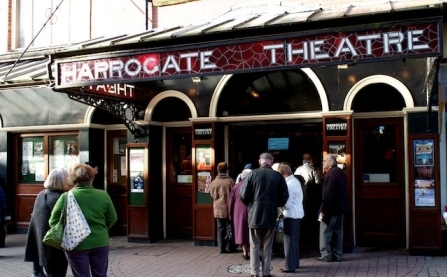 The production is co-produced by Black Toffee and Harrogate Theatre and is supported by Arts Council England. Black Toffee also made Hidden ("A true gem … talent as natural as this shouldn't remain hidden for long", The Guardian), which enjoyed a critically acclaimed, sell-out run at the Edinburgh Fringe Festival in 2013, followed by a national tour and London-run in 2014. Black Toffee was formed by Laura Lindsay in 2013 with the aim of producing high quality theatre and film which reflects modern society and challenges perspectives.
Black Toffee is an associate artist of Harrogate Theatre, who supported the R&D phase of the play last year, under a working title of Waiting for Light.
David Bown, Chief Executive of Harrogate Theatre said:

Parallel is a hugely enjoyable, stimulating and watchable piece. It touches on a fascinating subject with an assured touch of warmth and wit.
Harrogate Theatre, 6 Oxford Street, Harrogate, HG1 1QF.
To book tickets please call 01423 502 116 or go to http://www.harrogatetheatre.co.uk/whats-on/Parallel
Parallel – 1 to 5 March 2016 at 7:45pm (matinee, 5 March 2016, 2:45pm)
Tickets £12.00 (£10.00 concessions)
www.blacktoffee.co.uk
www.facebook.com/blacktoffeetheatreandfilm
Twitter: @BlackToffeeCo
Credits
Director: James Baker
Design: Victoria Hinton
Lighting Design: Aaron J Dootson
Sound Design: Owen Rafferty
Cast: Arabella Gibbins, Laura Lindsay, Seda Yildiz