A volunteer from Harrogate has received an award from Macmillan Cancer Support last weekend (29-30 May 2015) in recognition of her tireless efforts supporting the charity.
Colette Lain received her prize at the charity's Volunteers' Award Conference in Manchester, which was held to mark the start of National Volunteer Week this month (1-7 June 2015).
Just a few years after moving to Yorkshire, Colette has already become an indispensable member of the region's volunteer team. Colette originally joined Macmillan as a local speaker, giving talks to schools, clubs and associations and companies. She then started representing Macmillan at various events, from black-tie dinners to the local beer festival.
In 2014, fundraising volunteers in the North West – the 'Beijing Biddies' – drove all the way from Cumbria to Beijing, China. Colette used her contacts from her husband's time working for the British Embassy to contact embassies in all the countries the Biddies passed through – helping to drum up support, fundraising and publicity for them. On their arrival in Ulan Bator, Mongolia, they were met by the British Ambassador who organised a fundraising event for them, thanks to Colette.
Recently, Colette's also taken on the role of chair for a new fundraising group and has started volunteering at the Sir Robert Ogden Macmillan Centre in Harrogate, greeting patients and putting them at ease.
Colette said: When I heard that I had won the award I was absolutely amazed. I was astounded and very humbled as I know how hard Macmillan volunteers work. I felt very proud to be chosen.

I volunteer for Macmillan as many members of my family have been through the cancer battle, many have lost that battle but fortunately my younger brother seems to be winning it.
Colette won The Douglas Macmillan Award – for volunteers who "represent and speak up for Macmillan and, by doing this, help raise money, win corporate support or get essential media coverage".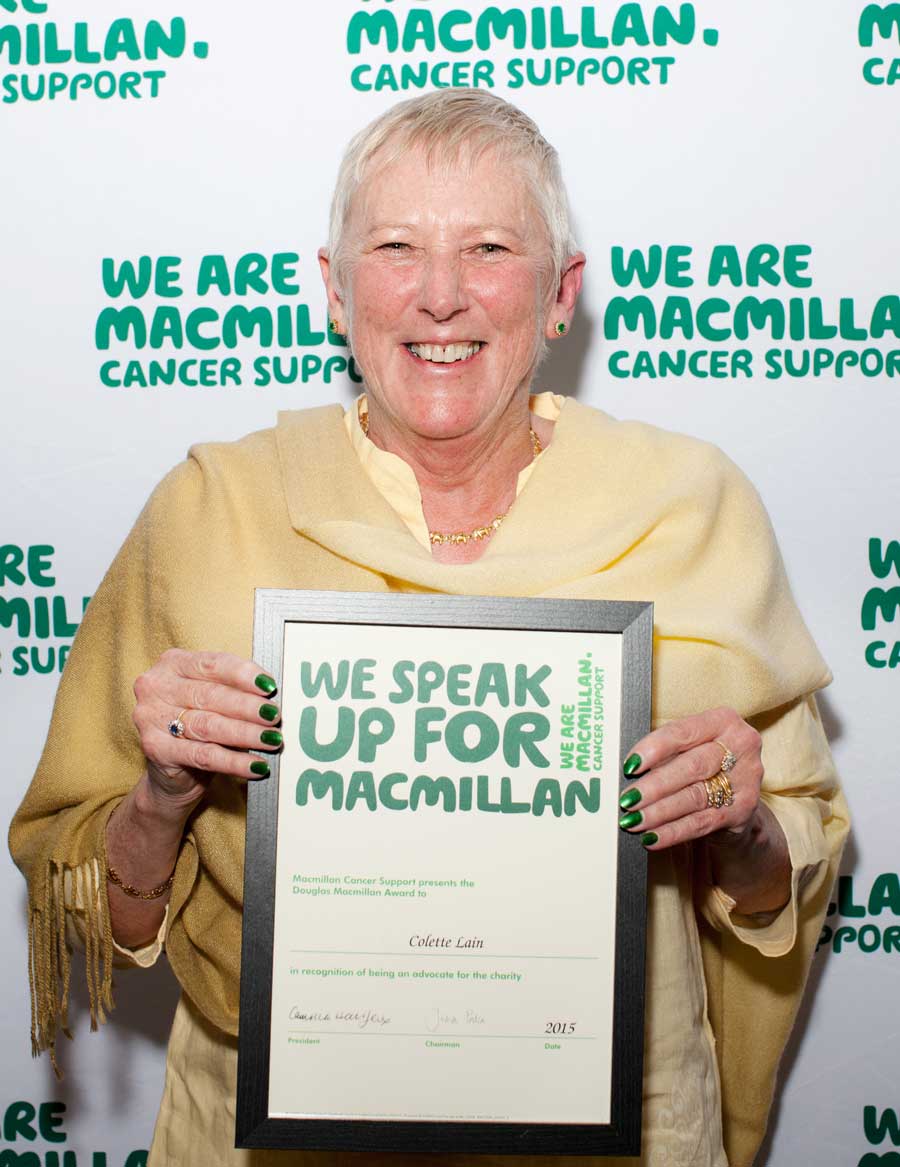 Fay Scullion, General Manager for Macmillan Cancer Support in Northern England, said:
Macmillan was set up by a volunteer over 100 years ago, and our volunteers are crucial in helping us to ensure that no one has to face cancer alone.

We wanted to use Volunteers' Week to say a well-deserved 'thank you' to all the people who give their time to help us. We also wanted to thank Colette for her incredible fundraising efforts to help people affected by cancer.
At Macmillan, we have a variety of volunteering roles and we always like to hear from people that might be interested in helping us out, because whether it's minutes or months, hours or days, whatever time you can give really will matter.
If you're interested in finding out about how to volunteer for Macmillan please visit www.macmillan.org.uk/volunteer, email volunteering@macmillan.org.uk  or call 0300 1000 200.