Dynamic duo Heather and Rob Memmott from Harrogate have travelled far and above that 'extra mile' to raise funds for Alzheimer's Society.
Not only has Rob run two marathons for the charity, but his wife Heather is a stalwart volunteer with Alzheimer's Society Legacy team in North Yorkshire.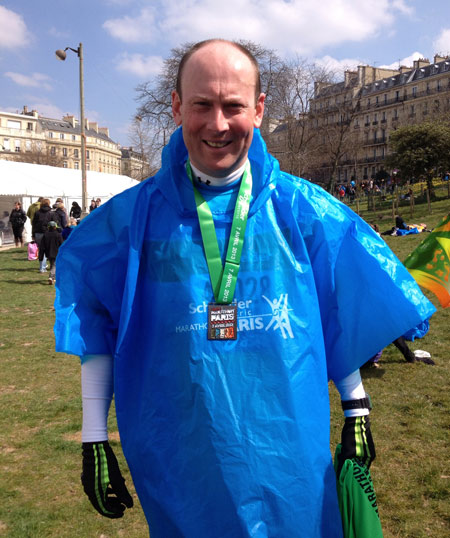 Heather said: It all started as a bit of a joke really when one of our friends asked us to go to Paris with them and then casually dropped into the conversation that whilst we were there he wanted Rob to do the Paris Marathon!

So taking on the challenge he signed up and decided that he wanted to do it for a charity that is close to our hearts, Alzheimer's Society, as Robs dad has the disease.

He did really well to complete the marathon as during his training he had to take six weeks off after an injury.
Not satisfied with raising over £3,000 in this first feat, Rob has also recently tackled one of the most hilly marathons in the country and completed the Langdale half-marathon in the Lake District in 1 hour and 56 minutes collecting a further £3,000 – and rising – for the charity.
Heather added: Although we live in Harrogate Rob commutes to Manchester for work so it's a real struggle to fit time in for training, but he is very determined.

Lots of people have been incredibly generous in donating to both marathons, so we would like to thank them for their wonderful support.
Alongside her husband Heather also supports Alzheimer's Society as 0a volunteer visiting funeral directors across North Yorkshire to provide them with information for customers on leaving a legacy to the charity and promoting in-memoriam giving.
Ashleigh Harvey, Legacy and Recognition Giving Officer for Alzheimer's Society in the North of England said: Volunteers like Heather do an amazing job supporting our work which is all about encouraging people to consider leaving a legacy to Alzheimer's Society in their will.

The legacies we receive make a huge difference to our income and this money is used to support vital services for people living with dementia and their carers.
Leaving a legacy is a lovely way to remember a loved one and help support other people in the future.
Rob's fundraising is still open to donations which can be made at https://www.justgiving.com/Rob-Memmott2/