A Yorkshire twin who sustained a serious brain injury in a jet-skiing accident has completed a half-marathon to raise money for the charity that helped rebuild his life.
Former Harrogate pupil, Peter Holmes, 20, took to the streets of Newcastle for this year's Great North Run to raise funds for Headway – the brain injury association after the jet-ski he had been riding crashed into another vehicle while he was on holiday with family in Serbia in 2011.
Joined by a 34-strong team of Headway runners, Peter, who had been studying towards his A-levels at St Aidan's School, in Harrogate, at the time of his accident, finished the race in an impressive 1hr 44mins.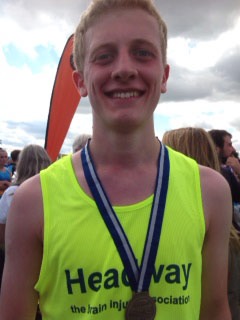 The half-marathon, which saw around 40,000 take to the streets of Newcastle to begin the race, followed a scenic route through North-East towns before the runners finally crossed the finish-line in South Shields.
With the support of his family and friends, Peter is delighted to have already raised almost £900 of his £1,000 target for the charity, which is dedicated to improving the lives of people affected by brain injury.
Peter said: The atmosphere was electric.

It was very hard and tiring at times, but it has been an absolute privilege to run for Headway.
I was forced to put my studies on hold for a year when I first had my accident, and it was difficult to watch my brother Alex continue on to the next stages ahead of me.

But the staff at St. Aidan's showed great patience and understanding and, after much perseverance and becoming gradually re-acclimatised to the world of academia, I have now been able to go on and study Geography at Hull University.

There is an outstanding number of people living with the long-term consequences of brain injury. To wear the Headway t-shirt and raise awareness and hope for those people affected by brain injury was just amazing.
If you would like to register for next year's Great North Run, please visit: www.headway.org.uk/great-north-run.aspx