14 new recruits have just completed an intensive 10-week training course to equip them for life on the beat as Police Community Support Officers (PCSO's).
North Yorkshire Police have welcomed 14 new Police Community Support Officers at a passing out ceremony held at police headquarters on Friday 6 June 2014.
PCSOs are civilian members of police staff. They work alongside their police officer colleagues so support front line policing providing a highly visible, accessible and familiar presence in our communities. They are trained in a variety of specialist roles including problemsolving, crime prevention and safety planning.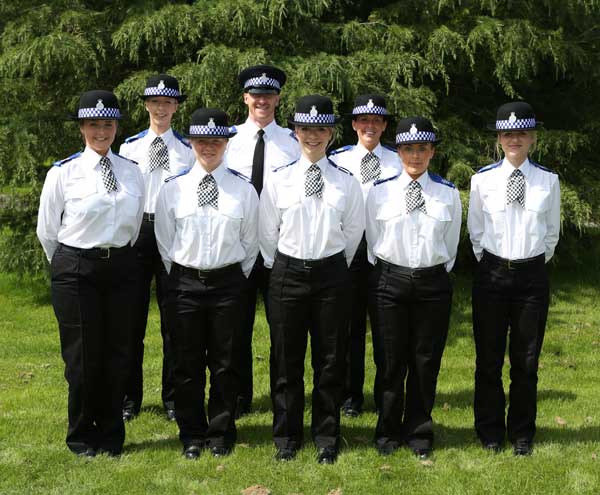 They are now ready to take up their roles across York and North Yorkshire, helping to keep our communities safe.
Chief Constable Dave Jones who hosted the passing out ceremony, said: It gives me great pleasure to welcome 14 new members to the North Yorkshire Police family.

They have reached an important milestone in their careers and from now on they can look forward to a varied, interesting and challenging career with North Yorkshire Police.

Throughout their training they have shown enthusiasm, passion and commitment to serving our communities and I wish them all the best with their future careers.
Julia Mulligan, Police and Crime Commissioner for North Yorkshire, said: PCSOs play a vital role in keeping our communities safe from harm.

They not only provide a reassuring uniformed presence and essential intelligence from local communities, but also vital front-line services tackling issues that affect people's quality of life, such as anti-social behaviour.

"The public has also been clear that their top priority is bobbies on the beat. This is why last year I overturned the former Police Authority's decision to cut funding for police officers and PCSOs. This recent recruitment drive is an important part of meeting my commitment to restore numbers to 2012 levels.

I am therefore delighted to welcome new PCSOs and wish them every success in their careers with North Yorkshire Police.
Ready to help keep our communities safe are:
PCSO Abigail Bambridge, PCSO Emma Benson-Shaw, PCSO Elise Breeze, PCSO Lucy Burgoyne, PCSO Michelle Calpin, PCSO Jamie Gibson, PCSO Annabelle Lumley-Holmes and PCSO Lauren Shuttleworth who will all be based in York
PCSO Stephanie Chapman will be based in Whitby.
PCSO Sophie Church will be based in Easingwold.
PCSO Michael Clarkson will be based in Richmond.
PCSO Simon Davy will be based in Knaresborough.
PCSO Anneliese Ryan and PCSO Christopher Whitehorn will be based in Selby.