The organisers of the successful Harrogate Christmas Market are delighted to announce that it will return for a third year in 2014 in the same attractive location, St Mary's Walk at the bottom of Montpellier Hill.
After being given permission by Harrogate Borough Council to go ahead again, Harrogate Christmas Market will take place from Thursday, 27 November 2014 to Sunday, 30 November 2014.
The Market will be even bigger and better, with a larger Craft & Gift Marquee and wider gangways to accommodate the large crowds, as well as a redesigned layout to improve the overall visitor experience.
Brian Dunsby, who, alongside his wife, Beryl, has led the Organising Committee since the event began in 2012, said he was pleased the Council's Licensing Committee had shown unanimous support for the Christmas Market.
Brian said: The 2013 Christmas Market brought around 40,000 people into Harrogate, including local people and visitors from around the country. Having such an influx of shoppers just a few weeks before Christmas is a real boost to our shops, cafés, restaurants and hotels at a vital time of year. We had many messages of support from them following last year's Market and several said it was their busiest weekend of the year.

It is great to be able to put the Christmas Market on again in 2014, not just as an attraction for local people and visitors, but to give our support to the many businesses and organisations which benefit from it too.
As Harrogate Christmas Market continues to expand, a new organisation structure has been introduced with specialists in charge of aspects such as health and safety, logistics, trader selection and marketing. However, all these organisers are still volunteers and the event will continue to be run on a not-for-profit basis, with any surplus being donated to local good causes including the annual Christmas lights appeal.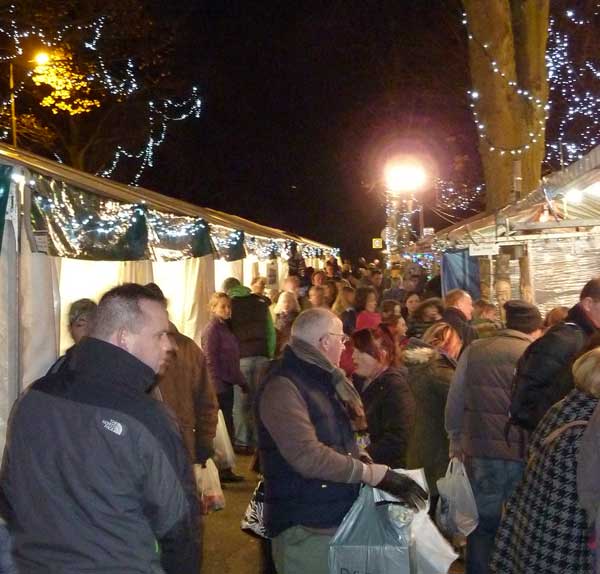 Steve Scarre, who is taking charge of logistics, said: Brian and Beryl have done an incredible job in establishing and growing Harrogate Christmas Market in just two short years.

Its reputation is amazing – there were enquiries coming in from people wanting to book stalls for 2014 the day after the 2013 Market closed. However, the way the event has grown means it now involves a significant amount of work to secure bookings, get everything set up and keep things running smoothly throughout the four days. The full support of the Borough Council and County Council is vital.

The new organisation structure will help to ensure Harrogate Christmas Market is even more successful in 2014 and beyond.
Bookings are now being taken from local businesses which want a stall at Harrogate Christmas Market this year. The focus is on high quality Yorkshire products, including food and drink, crafts, gifts, decorations and other items not normally found on the High Street.
For more information, visit www.harrogatechristmasmarket.org