Dj Trev's guide to chilling places to chill in Hallowe'ek in Harrogate.
Great photographs this week are from Sy Stanford of Connive
As we enter a second week of Hallowe'en related Hi-Jinx, it's fair to say that EVERY event that is listed for tonight is a "Hallowe'en special".
For example, tonight at Rehab will involve me playing terrifying tuneage whilst looking like I'm half dead and wearing a ridiculous outfit. If you can imagine some kind of joke here like "no change there then" that would save me the effort; but you take my meaning.
What I'm saying is: it's Hallowe'en! It will be a really good night out, doing essentially what normally happens, but with a touch more Michael Jackson's "Thriller" and I, at least, will be wearing slightly more make up than usual. And for authenticity I may smell like something has died. In my pants (Farewell Lemmywinks, you were a good Hamster).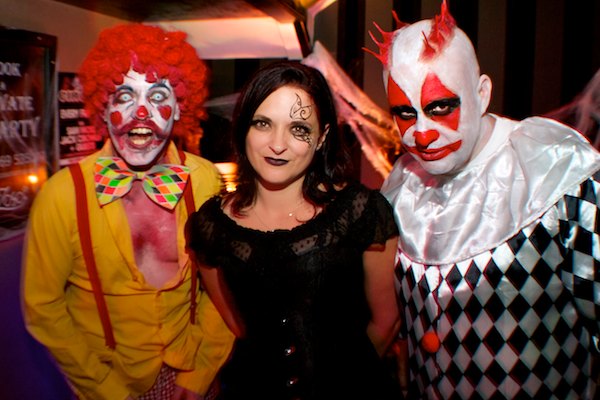 There is some undead/live live music around town tonight: in a change to their resident Thursday bands, The Blues Bar has Pink Peg Stax, whilst Montey's Cocktail Bar has M.F.O.R. there tonight to help Hallowe'en go off – that will be worth a visit if only to see if bar man Edi takes his top off for some reason. Dj Pieman is playing at The Alexandra tonight, so it looks like there is no band on but instead they have a charity fancy dress contest. Pieman is technically American so he always goes hard at his Hallowe'en costume, as that is one of the things Americans love. That and following everything with the term "super size".
Also tonight I am faced with something of a moral dilemma – which is scary in itself as I have no morals (seriously, if you doubt this come and offer me £5 to play Rihanna. Actually, thinking about it, I should insist on £5 for Rihanna, I've missed out on so much money….). The dilemma is that there are a few nights that I always really rave about and generally it's great as they are on nights that I'm not working in Harrogate so I can recommend you go to them without the need of defaulting on my mortgage payments. However tonight Moko lounge hosts "Knee Deep V's Dusk". Honestly, this looks ace, ALL of these dj's are playing: Bontan, Luke Pompey, Alex Simmons, Dom Samba, James Moon and Sean Harris. I don't know of Bontan but I do know all the other jocks are great, so yes, what to do? I want you to go to that, but I NEED you to come to my night… here's how I'm going to play it: If you like house music played by great Dj's and seamlessly mixed, you should go to Moko. If however you like really cheesy party & rock music mixed with all the subtlety of a brick, played by someone well past their best, you should come and see me at Rehab. Ideally, you'll go to both, and, if at all possibly, give me ten pounds so that I can retire and end the suffering for all concerned that much earlier.
Ultimately, the point remains, so much great stuff on tonight, get yourself out there!
And it's not just tonight, a bunch of places, most notably The Empress on the Stray, have got some Hallowe'e'ny type goings on over the weekend too. On Friday The Empress hold's it Hallowe'en Party, I'm not sure why they are doing it on the Friday but I suspect it is so that the staff can let their hair down and go a bit mental before their busiest night of the year, which is this Saturday, as it is also the Bonfire on the Stray. So expect the empress to be bouncing for the whole weekend and expect landlord Jarred to be REALLY bouncing about up until about Sunday morning, when he will either be not up and about at all, or he will actually look more like a zombie than anyone this week. Finally, Christies Bar hold's it's Hallowe'en special on Saturday, they've got live music from Nadeem Leigh followed by the cheesy disco hosted by Sean McGrath who is generally a pretty scary looking bloke anyway.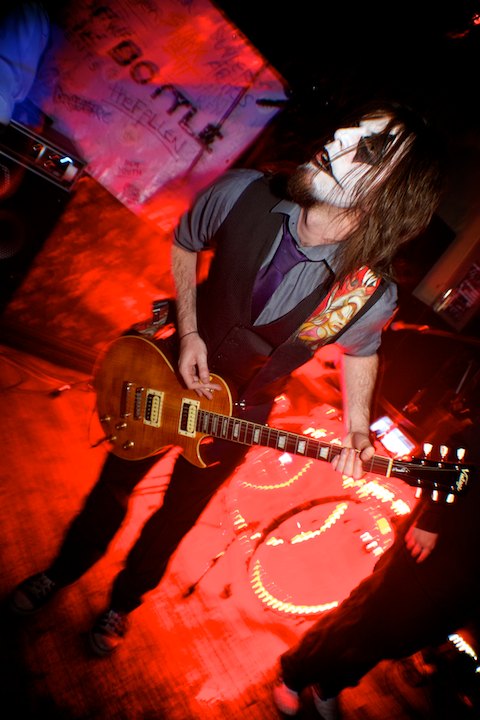 In some sad news this Friday Retro Bar host's the last ever Playtime. Playtime is a house night that has been running for years and for their farewell they have lined up The Buckle brothers to play and Gav Money, who will all be playing their favorite tracks over the last ten years, which is a really impressive amount of time to keep a club night going. The guys involved are all faces round town and really good lads and it's a shame that they are calling it time, so if you like quality house music get down to this and give the night a great send off! Retro Bar is on Commercial Street and the night runs from 9pm until 3am and seriously, props to The Playtime guys for "play"ing for ten years, I know they've had some great times!
At somewhat at the other end of the musical slidey dividey, this Saturday at Bilton Working Mens Club, there is "Back for Good" , who are a Take That & Westlife tribute. I've got a great deal of respect for Tribute acts as these are people who have taken the time to learn the songs and dance moves (although in the case of Westlife surely that's "sitting on a stool looking sincere") and even the physical nuances of the act they are paying homage to. Don't get me wrong, I think Westlife suck incredibly but the Take That part of the show will be good and I suspect this will be a good night out, maybe a bit more for girls…. Still, paying homage to your favorite artists for a living seems like fun, so to that end, also this Saturday, I will be Djing at the den, performing a tribute to people who can actually dj.
There is a monthly event this Wednesday at the Mitre Pub in Knaresborough, where they have the Jazz club, but whilst I own a great deal of Jazz magazines I know remarkably little about Jazz….
For anyone interested, last weekend was amazing, and I'd like to publicly thank anyone who came to any of the events I was playing and in particular give props to the people at Henshaw's in Knaresborough for "Frightfest" which was brilliant. I will be writing a full(Ish) review of that particular event later this week, and will possibly blog about Bottom of the Bottle as that was an awesome night too, however right now I can legitimately shoehorn a plug for the NEXT Bottom of the Bottle here because it is a charity one, in conjunction with the NYHC, with all the door take going to Cancer Research and Ependymoma Brain Tumor Research. That is going to be held on Sunday 24th November, meanwhile for now I have to go as I need to get my spook on for this evening. Hopefully I will see you there!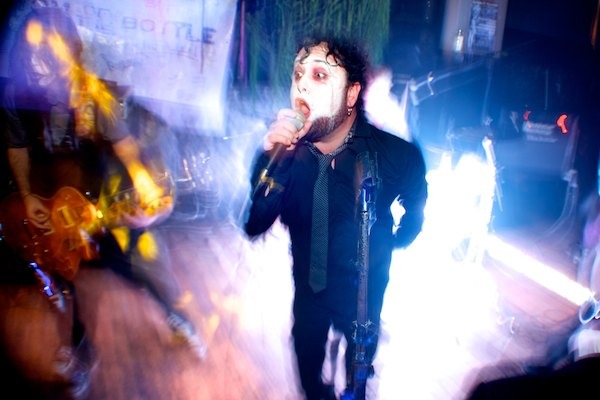 Here are this week's ACTUAL LISTINGS:
THURSDAY 31st October OMNIVERSAL HALLOWE'EN SPECIAL NIGHT EVERYWHERE.
Montey's rock Cafe, live music from M.F.O.R.
Rehab Nightclub, 2 floors, free entry, £2.50 drinks all night.: upstairs Flex R'n'B night with Dj Tex, downstairs Party Rock Anthems with Dj Trev.
Revolution, "Vodology" NuDisco, Electronic 80's & House with Dj Disco Dave, free entry.
Blues Bar, Live music with Pink Peg Stax. Free.
The Alexandra, Live music, free entry.
Viper Rooms Nightclub, Y.O.L.O. R'n'B night Door charge applies.
Moko Lounge Knee Deep V's Dusk house night double trouble.
Christies Bar, Pub quiz with Sean McGrath.
FRIDAY 1st November
Empress Pub hallowe'en Party..
Grape & Graze, Acoustic Night with Aaron Bertenshaw + more.
Lure bar, Dj Sixus, house & Urban, Free Entry.
The Blues Bar, live music from Poorboy. Free entry..
Rehab Nightclub, "Electro Circus" dance Night downstairs, upstairs live music with Pips & Scandal. Free Entry.
Moko Lounge nightclub, "Frat house Party".
Viper rooms X-Factor Finalist. Entry £5 or £8 to meet and greet the "celebrity"
Retro Bar, Commercial Street, Last Ever "Playtime", house night.
Grape & Graze, Parliament Street, acoustic night.
SATURDAY 2nd November
Bonfire on The Stray run by Harrogate Round Table.
The Blues Bar, live music with The Sharpees, free entry.
Charlies Place, Otley Road, Live music from Dog House Doctors.
Bilton working mens Club, "Back for Good" Take That & Westlife tribute. Entry £3 for non members.
Moko Lounge nightclub, "Risque", house night.
Revolution Bar, front bar Dj Tex (Soul & R'n'B), main room Disco Dave (upfront dance and chart) free entry.
Rehab nightclub, Rock music upstairs from Your Dj Pieman, Downstairs, dance music with Dj Wayne& James. Free entry.
Vipers Rooms Nightclub, Chart & house music, Dj Jay Collins upstairs, downstairs Dj Angel Lee playing guilty pleasures and feel good music, free entry before 11pm.
Christies Pub, Sean McGrath's Cheesy disco plus live music from nadeem Leigh, Hallowe'en Special.
SUNDAY 3rd November
The Alexandra Pub, Live music at the Sunday Soundcheck acoustic night. Free entry.
Rehab nightclub, Dj Trev playing requests and moaning about it. Free entry..
Lure bar, Dj Competition. Free Entry.
Banyan, Aaron Bertenshaw acoustic. Free Entry.
Viper Room's Nightclub, Peek-a-Boo Urban night.
Blues Bar, live music from Dan Burnett in the Afternoon and The Matt Goldberg Band in the evening. Free Entry.
Fat Badger , Cold Bath Road, Pub Quiz.
The Empress on The Stray, Pub Quiz.
MONDAY 4th November
The Alexandra Pub Quiz, with Dj Pieman.
The Harlow Inn, Otley road, Pub Quiz.
Zoso Bar, Dj Max & Rum Chaser, house music.
Blues Bar, open mic session with Pete Oliver including Aaron Bertenshaw acoustic, free entry.
Moko Lounge nightclub, Karaoke..
TUESDAY 5th November
The Tap n' Spile pub, folk night.
The Blues Bar, live music with The Mad Hatters, free entry.
Moko Lounge Nightclub, "Skint" main room upfront dance and electro, VIP Room Rock Box Rock night Dj Jaye Selway.
Revolution Bar, "Back to Rev's" House Night, Dj's Tex & Sixus.
Coach and horses Pie and Peas night with proceeds to Martin's House Children's Hospice.
Fat Badger monthly Beer club.
Zoso Bar, Union Street, Electro Jam, open decks sesh.
WEDNESDAYS 6th November
Mitre Pub Knaresborough, Monthly Jazz Club.
Rehab nightclub, Dj Pieman playing party music.
The Blues Bar, live music from the Paul Middleton Angst band .
SHAMELESS SELF PROMOTION
At this point in proceedings, I usually plug my blog, facebook.com/djtrevuk but to be honest this last couple of weeks I've been writing a bit more for Harrogate-news (as it's much more fun to write when people actually read it) so there's nothing new on there. Still, I suppose you MIGHT like to look at the old stuff I've written, anything is possible. I'm also on mixcloud.com/djtrevuk if you'd like to hear some of the music I like to play, but as ever, all that stuff has swearing and coarse references in, so tread carefully!
Happy Hallowe'en, thanks for reading, drink responsibly and don't be loose with your affections.
Trev x x x