Three of Yorkshire's finest female artists are featured in the exciting autumn programme of Chantry House Art Gallery in Ripley, near Harrogate, which begins next month (October).
Kate Lycett from Hebden Bride, Laura Wallace from Ilkley and Nel Whatmore from Tadcaster take centre stage at the gallery, which is under the new ownership of Emma Hargreaves, in October and November.
Emma commented:

We are delighted to host these three very special exhibitions. Kate, Laura and Nel are all exceptionally talented and their work fits in perfectly with our aim of promoting Yorkshire artists who paint Yorkshire subjects."

This is a tremendously exciting time for me, as the new owner of Chantry House, and I am thrilled with the quality and the scope of our first-ever season of exhibitions.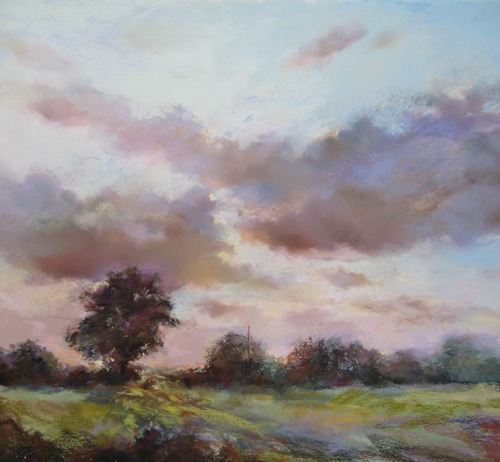 Kate Lycett launches Chantry House's autumn season on Saturday October 5 with her exhibition Hidden Places, Open Spaces, which runs until October 20 and will feature some specially-commissioned work by the gallery.
Kate explained:

I have immensely enjoyed interpreting the colours, the light and the space that makes North Yorkshire so different from my home in West Yorkshire. I feel that there is a stillness in the new pieces. Perhaps it's the reflections, perhaps it's the fact that all my sketching days seemed to be warm and sunny. I don't know how it came about, but I like it.

I have painted the new work with the space at Chantry House Gallery in mind. It's a very light and inviting space, but not so big the pieces will be lost.
Hidden Places, Open Spaces is followed by an exhibition by Laura Wallace from Ilkley, whose floral studies, landscapes and seascapes are attracting a loyal and appreciative following across the country. Laura's exhibition runs from November 1 until November 10. This is Laura's first exhibition in Yorkshire.
Laura explained:

I am incredibly excited," explained Laura. "Yorkshire, together with the Orkneys where my husband Mark is from, has always been my spiritual home and the majority of paintings that I will be exhibiting at Chantry House will be Yorkshire scenes.

Since returning to my home county to live a couple of years ago, I have been inspired by its wonderful countryside, especially the beauty of the Dales through the seasons, from bluebell woods to snow scenes, and the gorgeous flowers in my much-loved garden.
Laura has held several solo exhibitions in London, including The Lennox Gallery, McKenna and Co and 53 Beauchamp Place and has also exhibited in a variety of group shows including Art for Youth, Cameron Fine Art and the Affordable Art Fair with Panter and Hall.
Finally Nel Whatmore, one of the gallery's most popular artists, will be returning for her end -of-year exhibition from November 16 to 30. Like Laura, Nel will be bringing her beautiful florals, landscapes and seascapes to Ripley in her exhibition Moment In Time.
Nel, who has been a professional artist since 1986, commented:

I paint to convey a little of what we all see and aim to express what we all feel but at times, find hard to say. I seek to celebrate what is beautiful, to treasure moments in my day, and if my work raises a smile and lifts your heart, then that is a gift along the way.

There is always something interesting to see at Chantry House and now that Emma has taken over the gallery it has changed again by introducing a new look as well as lovely ceramics and glass. It is always important for a small business to move forward and so I can't wait to exhibit there.

My show will, as ever, reflect where I have been this year but will particularly focus on the coast and my visits to Devon, Runswick Bay and Northumberland. It has been a special year as I was 50 and I decided that I wanted to do a series of things, with specific people in my life, who I knew would enjoy them the most. This has inspired my paintings this year.