Yorkshire – Harrogate and Knaresborough Toy Library enjoyed a free, family day out at Flamingo Land last week as a reward for their contribution to the local community.
The day marked the launch of Flamingo Land's 'Hero' rollercoaster and the local charity heroes were invited to be amongst the first in the country to try out the fantastic new ride.
To thank the local heroes for their tireless work the group also had full access to the theme park's many other attractions, including their animal zoo and even had lunch thrown in for free.
The organisation brought along a group of 38 to enjoy the day of fun which included volunteers, beneficiaries and their families.
Elizabeth Carlsen, of Harrogate and Knaresborough Toy Library, said of the day:

We had a fantastic day out at Flamingo Land. It was such a treat, and everyone from the organisation really appreciated the generosity of the park and The Health Lottery.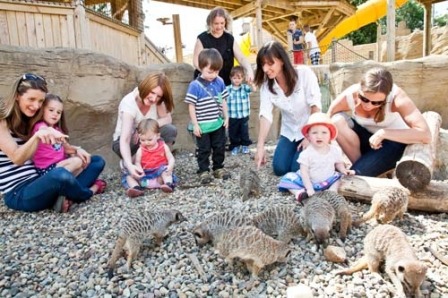 Harrogate and Knaresborough Toy Library is a charity that relies upon contributions and memberships to carry on its work.
The centre provides affordable access to therapeutic and specialist play facilities to families with children who have additional support needs.
The group recently received £9,260, awarded by People's Health Trust using money raised by HealthLevel through the Health Lottery.
Teresa Harper, whose son Ryan uses the centre, said:

Since Ryan started attending the toy library he has grown in confidence. The facilities the toy library offers are fantastic and I don't know what we would have done without it.
Gordon Gibb, Flamingo Land owner, said of the day:

We wanted to reward local heroes who give so much to their local communities. Being able to offer a day out so that all the family can enjoy it for free together is our way of supporting the hard work that Health Lottery heroes do.