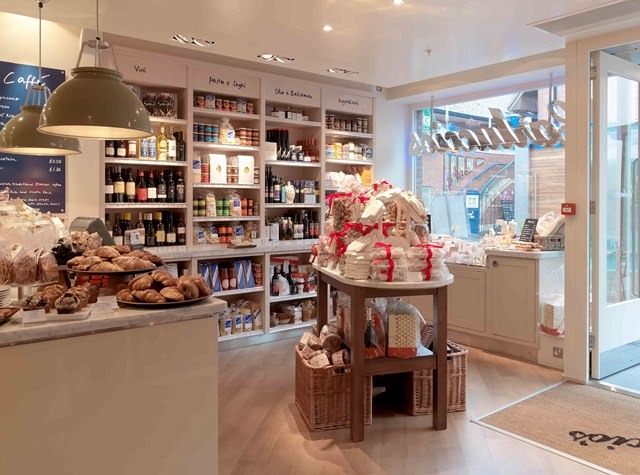 A major restaurant chain  have had planning permission refused for the development of the former Optical Express site on Station Square in Harrogate.
Permission was requested for change of use from retail (Use Class A1 – Shops) to restaurant and delicatessen (Use Class A3 – Restaurants & Cafes) with the erection of new shopfront with canopies, rear flue, ductwork and plant.
The application was made by the restaurant chain Carluccio's who operate around 75 restaurants throughout the country.
A spokesperson for Harrogate Borough Council said:

The application was determined yesterday under delegated powers, in consultation with the Chair of Planning, for the following reason;

The site lies on a principal shopping street within the Conservation Area and main shopping area. In the opinion of the Local Planning Authority the loss of most of this retail establishment and its replacement by an A3 use would result in a dilution of the retail uses in a shopping area, which would detract from the existing shopping nature of the town and would not lead to an improvement in the vitality and viability of the shopping centre nor the character of the Conservation Area.

The proposal would be contrary to Saved Policies S5 and HD3 of the Harrogate District Local Plan and Policy EQ2 of the Harrogate District Core Strategy Development Plan Document.
Simon Kossoff is the CEO of Carluccio's and is disappointed with this decision.
Speaking to Harrogate-News, Simon Kossoff said:

We requested planning permission for change of use from A1 to A3 to allow us to operate a mixed use facility, part restaurant and part high quality deli with breads cooked on the premises.

We estimated that the development would create 35 jobs, many more than a retail outlet. Harrogate Council refused to believe that we would create that number of jobs, insisting that it would more likely be 10.

The planning policy is out of date and it can be overruled if the developer can prove they will contribute to the vibrancy and vitality of the area – this is something we worked very hard to do.

We took experience from running our Chester restaurant, as we felt it was most similar to Harrogate. Our development would create significant more footfall given that we would be open from longer than most shops and the nature of being a restaurant.

We also consulted with the public and with 150 people surveyed outside the development, 100% agreed that it was a great development.

Harrogate Borough Council also failed to take into consideration that the development will combine a restaurant and retail food outlet.

The restaurant would add more to that area, including the retailers.

We asked the planners that the decision wasn't made under delegated powers and asked it be put before a planning committee. We will now appeal against the decision at cost to both Carluccio's and the Council.
Have your say and take part in our poll.