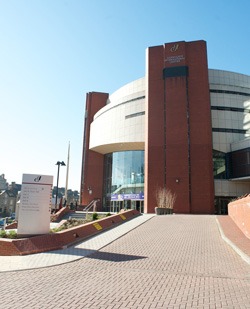 The new management team looking to boost the local profile of Harrogate International Centre (HIC) told businesses in the district that they will be "getting out to meet them".
As the venue looks to increase the millions of pounds brought into the district's economy each year by conference centre visitors, HIC director Simon Kent told local business owners they needed to put the past behind them and work together to guarantee the centre's future.
Speaking at a free breakfast event on Tuesday at the centre, attended by 60 local businesses, he said:

Exhibitions conferences and corporate events staged at HIC attract people from outside Harrogate and these people spend significant sums of money during their stay in hotels, restaurants, buying gifts and travelling. Many visitors bring their partners and stay on for holiday after the event they are attending, or return at a later date.
HIC is operated by Harrogate Borough Council as an arm's length organisation and Mr Kent was joined on stage by the council's chief executive, Wallace Sampson, who echoed the need for the whole of Harrogate's business community to work with HIC.
Wallace Sampson said:

At the end of the day, having a successful HIC isn't just about the board, it's about the whole district, and events like today demonstrate our desire for a partnership approach.

It is not just about HIC winning business, it is about us all working together to attract new customers and to retain repeat business.
The business breakfast at HIC was the first in a number of events aimed at building links between the venue and the district's business community.
When asked what the management team would be doing to engage with local businesses, HIC Head of Sales, Vickie Wilson said it would be about "getting out and meeting people".
Vickie Wilson said:

I am aware how important it is to engage with the local business community. We need to know what you can offer organisers and delegates so that we can use that when pitching for business. So you can expect to see a lot more of me in the future.
Answering questions on the future of some of the older halls at HIC, Mr Kent told the meeting that quarter of a million pound had been earmarked for refurbishment this year with further investment to follow as part of a ten year investment plan for the site.
Mr Kent also said he was pleased to hear those who attended the meeting agree that a successful future for HIC was essential for the local economy.
Brooke Adams, meetings and events manager at Hotel du Vin in Harrogate, said:

It was nice to meet the people who work at the International Centre. I think it's great the way they are trying to engage more with businesses and open up.

I found it really useful.
The success of Tuesday's breakfast has seen HIC announce a similar event aimed at the district's hotel industry. Accommodating Lunch will take place at 11.30am on ;Monday, 1 July 2013.