On Friday, students from Harrogate Grammar School were congratulated by the local MP, Andrew Jones, for their success, this year, in representing the school in two prestigious mock trial competitions both at regional and national levels.
The regional round of the Magistrates Mock Trial Competition was held at the Leeds Magistrates Court on Saturday 2nd March where the Year 8 and 9 students received high praise for their "overall good team performance".
The team, consisted of: Amy Wotherspoon, Kallista Lawson-Tovey, Elliot Wright, Will Giddings, Jack Hennighan, Lulu Mossman, Isabel Lily, Jess Cawdroy, Tom Godfrey, Miranda Needleman, Odysseus Kalantaridis, Albert Jennings, Charlie Toase and James Merchant and they were supported in their preparations by parent Mr. Jonathan Godfrey and Mrs. Carli Bean.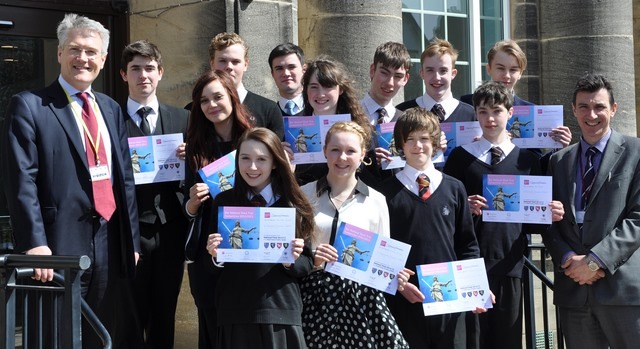 The regional round of the Bar National Mock Trial Competition took place at Leeds Crown Court in November. The team, ranging from Year 10 to Year 13, included Theodore Davey, Ben Massey, Michael Putley, Olivia Turner, Will Eley, Dan Ingram, Matthew MacGregor, Sam Cremins, Lucy Atkinson, Charlotte Small, Daisy Locke and Ben Ball, supported by Mr. Paul Andrew and Mrs. Carli Bean.
They were successful enough to win their heat and the final round to win a place in the National Final, held at the Royal Courts of Justice on Saturday 23rd March.
They were one of sixteen teams to complete on the day, out of over 170 teams who had participated nationally, and were congratulated on their "outstanding" performance by judges on the day.
Mr. Jones presented each student with their certificate from the Citizenship Foundation who organised both competitions.