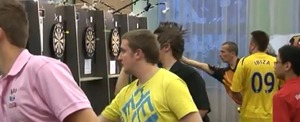 Batmen's to meet the MahOOsive in the final! Bilton Batsmen took their place in the final of the Ken Mountain Memorial Knockout Cup with a 5-2 win over a much fancied Slip Inn.
The Batsmen were without regulars Ryan and Graham Hoggarth as they were attempting to win places in the PDC UK Open finals. Reports filtered through during the evening that they had been unsuccessful in their quest and failed to score above the cut off of 450 points with 15 darts. Ryan scored 324 and Graham 299.
Back in the real world of darts Phil Taylor set the Batsmen off with a 180 in a 25 dart leg which was enough to beat opponent Jim Gavin 2-0. Paul Brecken pulled a set back for the Slip with a 24 dart leg. Onslow Shaw doubled the Slip's lead to 2-1 checking out in 23 darts. Tony Sharratt, sporting his new A180 darts brought the match back to 2-2 with a win in 25 darts.
In a set that could have gone either way, it went the way of the Batsmen as Rowdy Yates had flown in from Brazil to cover for the Hoggarth's and beat Barry Nelson 2-1 in close match. Alex Pride secured the winning set in fine style with legs of 23 and 18 including a 106 finish. With the match won Lewis Pride could relax and finished the night off with a 25 dart leg.
In the second Semi final Cons Club Mahoosive finished off any hope of Harlow Hill A's chances of silverware in a close game that ended 4 – 3 in favour of the Cons Club team. The night was decided with a final game at 3 – 3, with what appeared to be the world of darts watching the pressure was just too much for the A Team, from Harlow Hill.
Harlow Hill 'B' on the other hand had a famous victory over Division one power houses the Manhattan Dales, the Dales players rushed to a 3 – 1 lead with Lawman , Cameron and Sowray all in good form and with only one game required from the final 3 for a place in the final the pressure was all on the Harlow team to turn round the match for a famous victory. As the games flew by the Dales team's nerves crumbled as did their resolve, and in the deciding game Stephen Wilkins held firm resolve and character to finish the match with a vital double 2, Deflated the Dales team captain Wayne Campbell said "Harlow deserved the win, we wish them all the luck in the world for the Final"
In the final Semi of the weeks consolation cup fixtures, runaway leaders of Division 2 Railway Athletic with only 2 defeats from 16 games this season came unstuck against the 1st Division Londesboro Club, the reported score line on the night was 2 – 5.