Harrogate Railway Ladies had an extraordinary day today having to play Bradford Park twice in the same afternoon, the league stated they had to play one game with half an hour each way and the same again after a half hour break, due to a back log of fixtures.
So with 6 points up for grabs it was going to be a challenge, the first game proved to be not good for the railway ladies as Bradford won 0-1, scoring in the first half with a simple goal. Railway just didn't look comfortable on the ball and no matter how hard they tried any shots on goal were taken well by the Bradford keeper. Railways captain Ali Purvis (player of the first match) had a great game at right back and had a fine free kick saved on the line.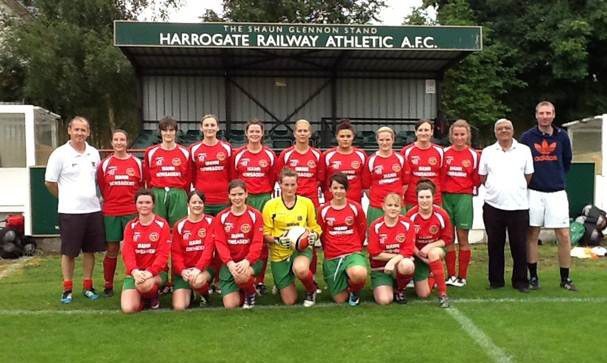 Nicola Hadley picked up a good pass from midfield and struck a great shot only to find the crossbar and the ball cleared out. After the first game was finished the Railway ladies went back into the changing rooms for a rest and a good talk!
The second game proved to be a completely different story with Railway winning 8-0, the Railway girls had listened well at the interval and came out passing well, moving off the ball better and communicating with each other.
[sam id="4″ codes="true"]
It took only 12 minutes for the ball to land at Hannah Campbell's feet after some great passing and she took the ball past the Bradford keeper. It was 8 minutes later when Hannah again found herself in a great position and hammered in a shot that hit the under side of the bar and went in, however Bradford appealed and after asking the keeper, had it crossed the line, the referee said no goal! This proved to ignite Railway even more and 3 minutes after Nicola Hadley hit the ball so hard it nearly went through the back of the net (certainly crossed the line) and just on half time Hannah scored the third. After the re start railway pressed on and were rarely out of the Bradford half, 5 minutes gone and Jodie Hodgson scored her first of two with a fine strike, 4-0.
New girl Rachel Dorkings came on for Sandra Clarke on the left wing and had a immediate impact, crossing in from the left and receiving the ball back from Hannah then stuck a brilliant goal into the far corner, 5-0. With Hannah scoring the 6th goal and Jodie getting her second on the 50th minute it only left Hannah to put away a penalty in the last minute to make the final score 8-0. With only three league games left it is going to be close after dropping 3 points today but Railway are still looking favourites to win the league.