Harrogate Railway Ladies finally got to play Silsden at the weekend in the league cup semi final and came away winners with a 1-7 score line.
The pitch railway had to play on was a bit of a joke in size, with the goal kicks landing almost in the opposite penalty box!! Any how the Ladies put on a good show and put great pressure on the silsden defence from the start, attacking with numbers from both sides. It was left back Sandra Clarke who opened the scoring on the 7th minute with a great 30yrd lobe.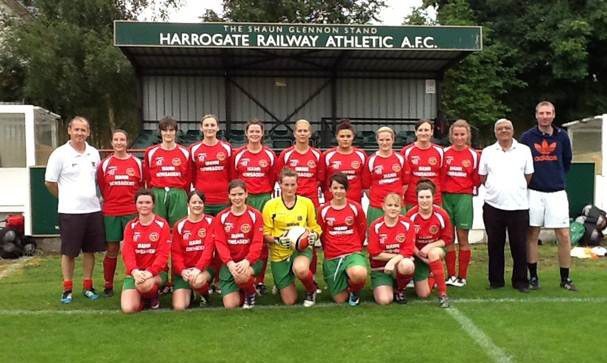 It was a game mostly dominated by Railway, Silsden did have a couple of chances in the first half but not much for the Railway keeper to worry about.
On form Hannah Campbell scored 6, 2 in the first half and 4 in the second half, the two best being, a header from an Ally Purvis corner and the other a fine volley shot from 23yrds out. A slack moment did occur when Silsden restarted after the 6th goal, a long ball was played over the top two railway defenders missed the ball completely and the forward girl found herself one on one with Emma Prest and did a fine finish into the top corner.
It was a game that went a bit flat after 60 minutes and Railway were happy to finish the game with a comfortable score line and mostly to get a game played for the first time in 5 weeks. Railway will face Tingley in the final, to be played on Monday 6th May 2pm KO at Ossett Town.