With 2 games remaining, this comprehensive victory leaves Harrogate in pole position for promotion.
However, Chester and Sandal also had big wins and are still contenders for the top spot. Harrogate's home match v Sandal next week will be a hugely important occasion.
The first try came from Tom Harvey stealing a Park line-out and then being "taken out" in mid air. A big driving maul was set up from the ensuing penalty, the ball was released and Callum Irvine dummied his way through for an under the posts try. Astonishingly, he missed the conversion.
Inventive, high speed back play was well supported by the Harrogate pack with hooker, Aarin Yorke showing electric pace. A Park attack ended when Harrogate turned over possession and Pete Wackett scythed through the home defence. Yorke was on hand to take the pass for a try converted by Irvine.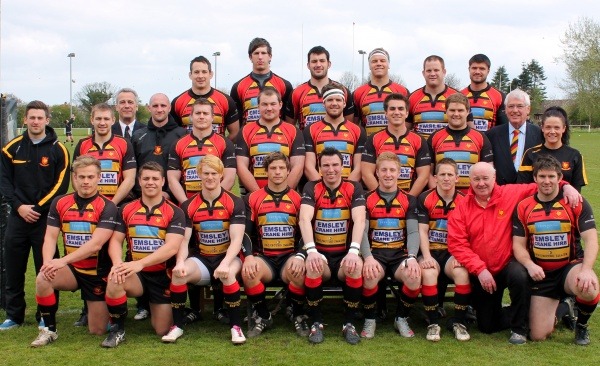 Half backs Phil Wickham and Irvine were at the heart of Harrogate's creative play but the next try came from an attempted Park counter attack. A midfield fumble was pounced on by the outstanding Sam Bottomley who showed pace, guile and strength to power through for a 30 metre try.
An attacking Park driving maul was ended illegally and Tim Heaton was dispatched to the sin bin. Dogged Harrogate defence seemed to be holding firm during this 10 minute period but an offside offence led to another Park penalty and they opted for a scrum. Quick ball was released to full back, Phil Morse who crashed over for a fine try.
The Harrogate pressure continued for the rest of the half with Bottomley & Irvine testing the home defence. Wackett then made another scintillating break and created space for Heaton to score the bonus point converted try on the stroke of half time.
Park came out of their blocks on the resumption with strong forward play giving good ball to their backs where centre, James Bird ran strongly. However, they were turned over by Harrogate on halfway and fast skilful handling split the home defence and Bottomley scored his second try.
The powerful running Harrogate forwards continued to punch holes in the home defence with Dan Metcalfe, the Brady brothers, Nathan Smith and Heaton well to the fore. Yet another dazzling Irvine break from halfway gave Bottomley possession inside the Park 22. It didn't seem to be a scoring pass as he was seemingly hemmed in but he again squirmed through strongly for his hat trick try, converted by Irvine.
Park continued to make a game of it and mounted a sustained 10 minute period of pressure on Harrogate. A quickly taken penalty was driven on by their forwards and No8, Brett Sylph (a former Harrogate player) crashed over to score. Stung by this reverse, Harrogate took control for the rest of the match and Noel Minikin came within a hairsbreadth of scoring in the left corner. Park's defence had gone offside to thwart the try and a quickly taken Harrogate penalty resulted in a well controlled driving maul. Sam Brady tucked in behind to score and Irvine's conversion ended the match
Percy Park 10 Harrogate 43
Percy Park
Morse, Stock, Morton, Bird, Blair, Smith, Gilmore, Wafer, Dubois, Purdy, Langlands, Williamson, S Wilson, Davidson, Sylph, Dunn, Bell, Blackburn
Harrogate
Denton, Wackett, Dench, Bottomley, Minikin, Irvine, Wickham, Metcalfe, Yorke, Browne, Harvey, C Wilson, J Brady, Smith, Heaton, Aspinall, Maycock, S Brady
Referee
Dean Walker (Northern Division)