After months of careful planning, visa applications, scheduling and venue bookings HIYF 2013 is finally here. Organisers of the event, which is celebrating its 40th anniversary this year, have been busy making final preparations to welcome hundreds of international guests to Harrogate.
Official events will commence tonight with the Civic reception; at which, local Mayoral teams will welcome the festival's international guests and local bands to Harrogate for the coming week.
There are several things not to be missed this year; the Grand Easter Parade of course, which will take place on Saturday 30th March from 11am (from Victoria Avenue). Get your spot along the parade route early so you can catch the whole march of performers, musicians and guests.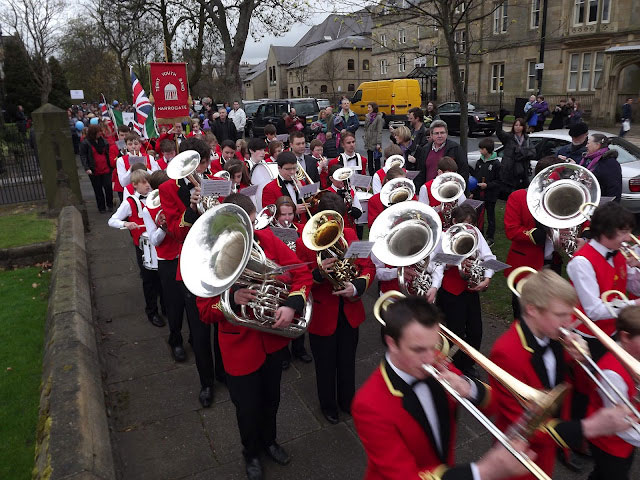 You can also catch a special commemorative exhibition in the town centre at St Peter's church exhibition space (the glass extension on Cambridge St). This is a one off opportunity to take in this event's rich history and see why it has latest the test of time to become the country's longest running Youth Festival.
There are also afternoon outdoor performances at the Victoria Shopping Centre between 12:30 and 16:30 on Saturday, 30 March 2013.
Interest in the 40th anniversary has been so strong, that organisers have also added an additional concert. If you want to see some of the Festival's incredible performers in a more intimate setting, you can catch a special, new concert at St. Andrew's Church (Aldborough) on Saturday 30th, from 19:30. This will include music from The Crazy Hoppers, a Big Band from Switzerland, the Juja Choir from Kenya and the Concert Chorale and Ladies Choir of the Grand prairie Composite High school from Canada, as well as some local groups. Tickets can be purchased on the door for £5 and all funds will go to the construction of a new ramp into the church.
Lena Stenger, Event Manager for HIYF said:

We are so excited it is finally time to celebrate the Festival's anniversary. We have had always had wonderful support and we hope this will continue and that we will see Harrogate turn out to support our local groups and of course the international guests, many of whom have travelled thousands of miles to be here.
A full list of concerts can be found at www.hiyf.co.uk.
If you would like to book tickets, then you can do so by calling Harrogate Theatre on: 01423 502116